The BetaShares NASDAQ 100 ETF (ASX: NDQ) has been one of the most traded securities on the ASX recently.
This comes following the 10% drop in the Nasdaq Composite index since the beginning of the month. A disproportionate amount of buyers is a strong indication of positive investor sentiment towards the underlying companies held in this fund.
What does the NDQ ETF invest in?
This exchange-traded fund (ETF) consists of 100 of the biggest companies traded on the Nasdaq by market capitalisation. It is mainly exposed to the Information Technology sector, with its biggest holdings in Apple (13.5%), Amazon (10.8%), Microsoft (10.8%) and Facebook (4.5%). Given the large exposure in IT, the recent sell-off of US technology companies has seen the NDQ share price fall 9% to $25.58 at the time of writing.
Looking back since its inception, this ETF has had a great track record of consistent growth. As of 31 August 2020, it has returned 43.95% after fees in the last year. Since its inception in 2015, it has returned an impressive 22.43% after fees. Management fees are 0.48% per annum, significantly higher than ETFs exposed to Australian companies and broader markets, yet still relatively cheap compared to traditional managed funds or listed investment companies (LICs).
New stocks are not added to this ETF based on analyst's recommendations. Instead, a reconstitution of the fund is performed on an annual basis, with new stocks added based on market capitalisation. Weightings are also rebalanced quarterly.
Why I like the NDQ ETF
The simplicity and convenience of being able to get instant exposure to high growth US companies through the ASX is very appealing to me. It means I don't have to open a new trading account and place trades for each individual company. This will reduce brokerage and currency conversion fees.
Additionally, I have high conviction in a lot of its major holdings and have a strong belief in their long-term growth prospects. Some could argue that this ETF is too concentrated around the larger players such as Apple and Amazon which could make it more sensitive to market movements. This could be true, but it could also be said that having a larger concentration in these high growth companies has allowed it to outperform funds that track a broader index such as the S&P 500 (comparison below).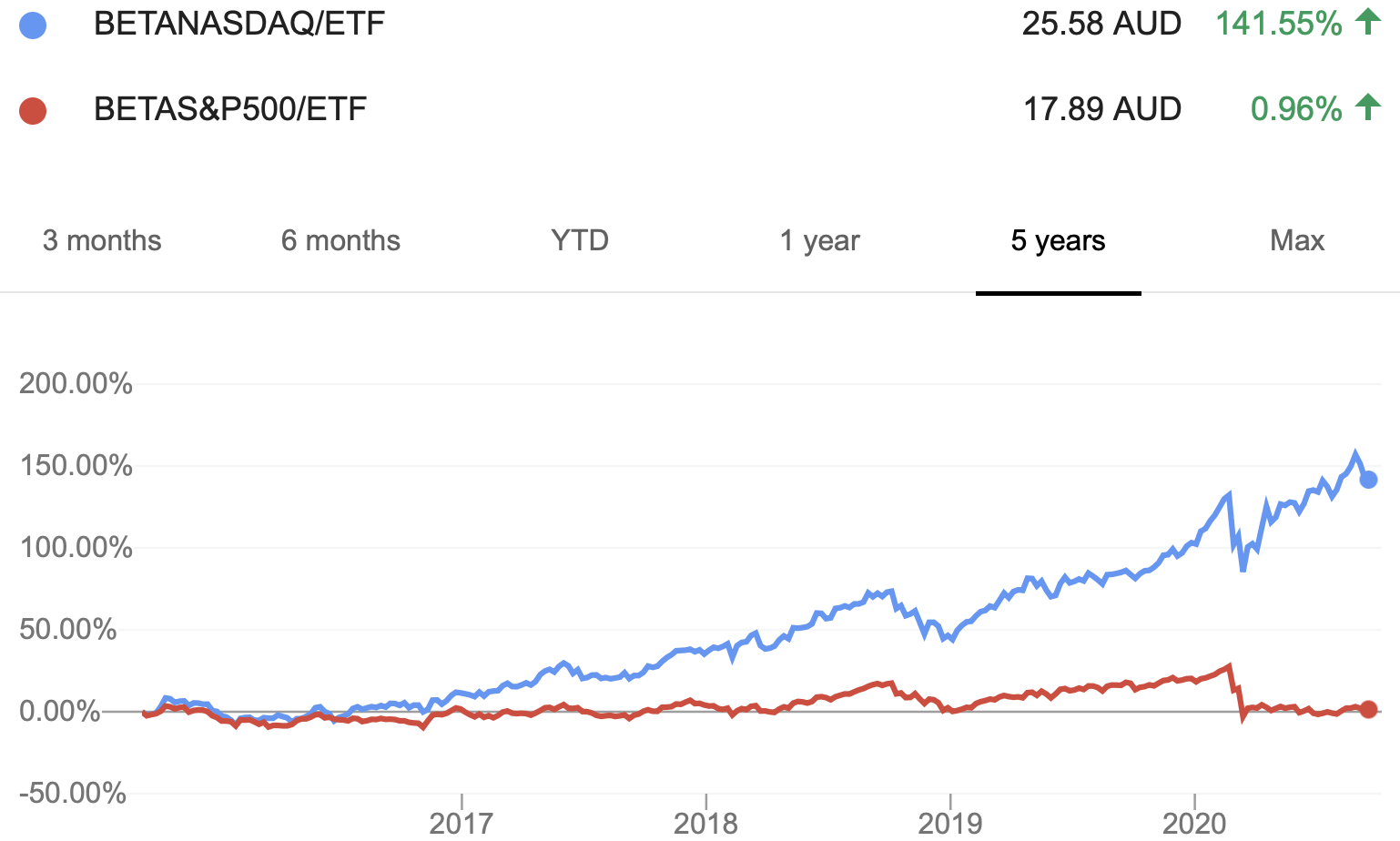 Final thoughts
Your decision to buy shares in this ETF would come down to how strong your conviction is toward the major players in this fund and how the future will play out. Perhaps US tech will be sold off more in the short term, only time will tell. It also seems that financial markets have forgotten about the US election in 2 months. I would be a buyer of the NDQ ETF today, but I would expect some volatility in the short to medium term.
There is an abundance of ETFs currently out there. If you're interested in learning more about ETFs but aren't sure where to start, check out the Rask ETF service to access exclusive ETF research and ideas.