With bank shares up another 3% today, thousands of income-hungry investors are asking if ANZ Banking Group (ASX: ANZ) shares seriously overvalued, expensive… or just fairly priced.
In this short article, I'll explain, using ANZ as my example, the key valuation tool you can use to value a share like ANZ or National Australia Bank Ltd. (ASX: NAB) and Commonwealth Bank of Australia (ASX: CBA).
You should read this article alongside two other recent stories we've published:
Featured video: how to value dividend shares
Are ANZ shares worth $13?
Given that Australian bank shares like ANZ have a history of paying consistent dividends — and tend to be stable businesses like REITs or even ETFs — we can use a modelling technique called a dividend discount model or 'DDM' to do a valuation based on the expected dividend payments to shareholders.
Basically, 'what would a consistent dividend income stream be worth?'
Not only do we need to make quick (and sometimes dirty) estimates about the future of the dividend, we also need to apply a risk rating that will 'discount' the future dividends back to today's dollars.
My DDM uses the dividends that shareholders are 'expected' to receive in the future to put a valuation on the shares. This is not the only way to value a bank share but it's easy and intuitive.
Risk rates
First, we have to pick a yearly 'risk' rate to discount the dividend payments back into today's dollars. The higher the 'risk' rate, the lower the share price valuation. To keep things consistent and robust, I've used a few different rates, from 9% to 14%, so you can see the impact it has on ANZ's share valuation.
Forecast dividends
In the first instance, I'll assume last year's annual dividend payments are consistent this year. Warning: recently, ANZ decided to 'defer' its dividend payment to shareholders, which is the exact same thing as saying it was cancelled (after all, if they don't pay the dividend, the dividend doesn't exist).
In any case, using my quick DDM model we will assume last year's dividend payment as a starting point and forecast it to grow at a consistent rate in perpetuity (i.e. forever). Instead of just picking one number (e.g. 2% dividend growth), I'll run my model at a few different yearly rates — between 1.5% and 3% — and then get the average valuation.
Normal dividend valuation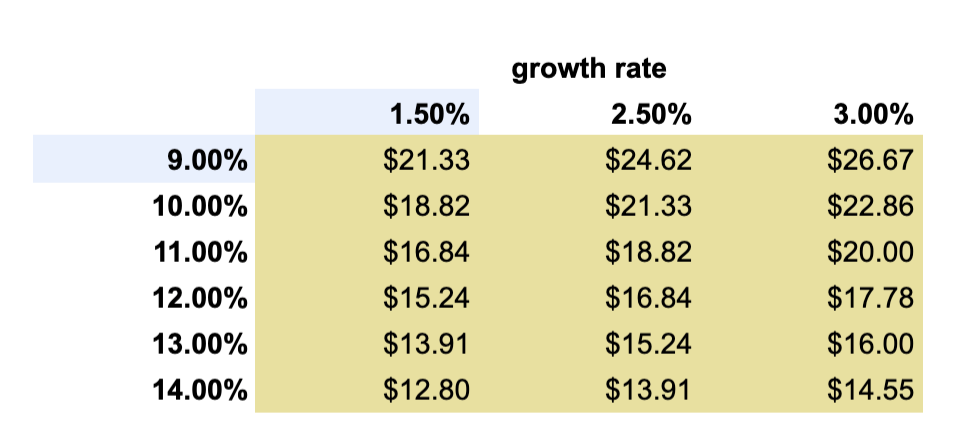 My average DDM valuation under these assumptions for ANZ shares is $18.20. The valuation compares to ANZ Banking Group's share price of $19.49.
Adjusted dividend valuation ($1.20 per share)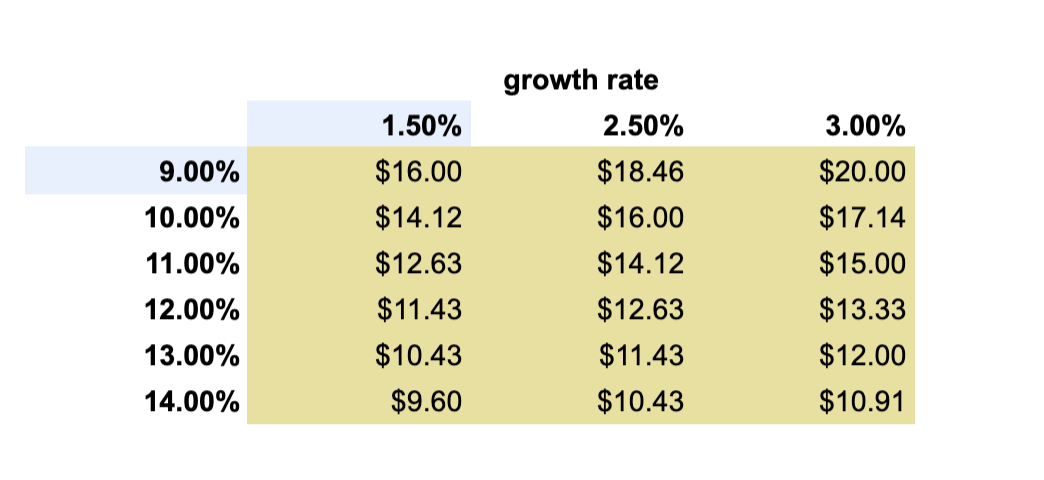 However, using an 'adjusted' dividend payment of $1.20 per share, the valuation drops to $13.65.
My takeaway
While the modelling suggests ANZ shares could be expensive, keep in mind that neither of these two models adjusts for the benefits of franking credits, which — if you use our franking credits calculator — you will know can be significant. And of course, this DDM model is extremely simple and back-of-the-envelope style, so don't rely on the numbers as if it were an exact science.
If you want to know more about doing a DDM model for any dividend-paying company and to download our spreadsheets, you can head over to the Rask Education website and enrol in our free valuation course.
Finally, if you want to know where I'm investing my money in 2020, grab a copy of my free investment report below.
3 stocks to own in July 2020...
Amidst the COVID-19 confusion, there are some companies still growing FAST (think: online meetings through Zoom, streaming companies like Netflix and eHealth services provided by Teledoc).
While the world grapples with COVID-19, some companies are still growing rapidly. The entire cloud computing market is valued around $US210 billion but if you ask me, it seems clear as day that this market is only going to get bigger in 2020 and beyond.
That's why our top investment analyst has just identified 3 growth stocks in a net cash position, with strong competitive forces... and obvious tailwinds at their back. He owns all three of them right now!
Claim a FREE investing report on our analyst's "3 best share ideas for the cloud revolution" when you create a free Rask Australia account.
Our report is 100% free and unlocks hundreds of hours of bonus content.
Simply click here to access the report.
---
Disclaimer and warning: This information is published by The Rask Group Pty Ltd and contains general financial advice and information. That means, the information/advice does not take into account your objectives, financial situation or needs. Because of that, you should consider if the advice is appropriate to you and your needs, before acting on the information. In addition, you should obtain and read the product disclosure statement (PDS) before making a decision to acquire a financial product. If you don't know what your needs are, you should consult a trusted and licensed financial adviser who can provide you with personal financial product advice. Please read our Terms of Service and Financial Services Guide before using this website.
Disclosure: at the time of publishing, Owen does not have a financial interest in any of the companies mentioned in this article.