The Afterpay (ASX: APT) share price is rebounding strongly. It's up another 10% today to above $21.
What is Afterpay?
It's the owner of the popular "buy now, pay later" app. As of 2019, Afterpay had over 4 million registered users worldwide, making it one of Australia's true technology success stories. Afterpay is trying to emulate its outstanding success in Australia by expanding its reach into the UK, using the 'Clearpay' brand name, and into the USA, where it has signed major social influencers to endorse its service.
Is the Afterpay share price worth $34?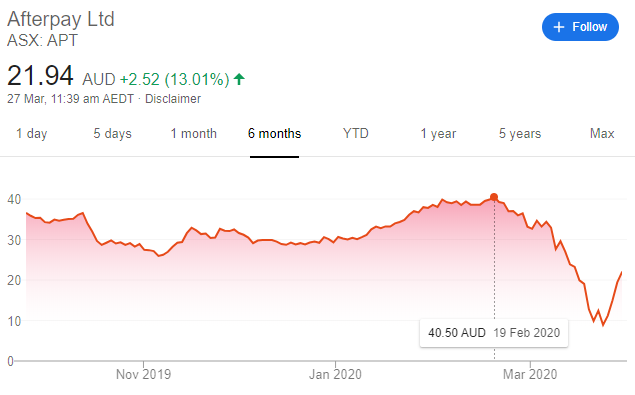 At one point the Afterpay share price was down 80% to $9. Now it's only down 47.5%. Meaning, since that low point it has rebounded over 130%.
Analysts make various estimates about where they think the share price will be in 12 months time. According to WSJ, the average share price target for Afterpay is $34 right now. But some of these valuations may be based on old expectations.
Shopping centres around the world are being closed temporarily because of COVID-19. People are less focused on buying the latest clothing and thinking more about their income.
The thing is, Afterpay wasn't profitable even before this pandemic, so COVID-19 could push back profitability for Afterpay for a year or two. It was aiming to reach 9.5 million active customers by the end of FY20.
The buy now, pay later leader may have to wait some time before its underlying sales go back to normality. But knowing Afterpay shares, it could jump back to $34 very quickly.
Disclosure: at the time of publishing, Jaz does not have a financial interest in any of the companies mentioned.