The EML Payments (ASX: EML) share price went up almost 9% yesterday, is it about to go through a recovery?
What is EML Payments?
EML Payments develops financial technology to provide solutions for payouts, gifts, incentives & rewards and supplier payments. It issues mobile, virtual and physical cards to some of the largest corporate brands, processing billions of payments each year, managing more than 1,400 programs across 23 countries in North America, Europe and Australia.
What has happened to EML Payments?
Since 18 February 2020 the EML Payments share price has dropped 74%, which includes yesterday's gain. This has been one of the most painful falls on the ASX.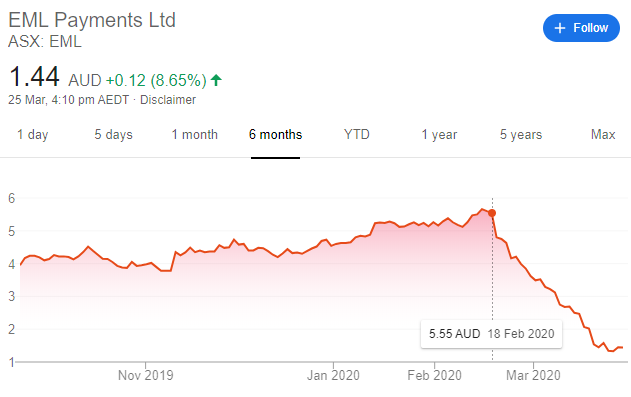 You can imagine why investors have sold it off so much – not many people are going to be shopping, or buying gift cards, when everyone is in lockdown.
It's not as though it's an unprofitable start-up in a precarious business, its latest result showed a profit of $4.3 million and the company recently said in the first eight months of FY20 it generated operating cash flow of $22.8 million.
Pleasingly, in its recent March update it said it had been monitoring its gross debit volumes closely and noted that as of mid-March, it hadn't experienced "materially adverse trading conditions."
However, the company did warn that lower central bank interest rates will impact the interest the company earns on its stored value float.
It's working to lower its expenses and improve its cash flow conversion. The company said it had a cash balance of $278.6 million with $0 debt at the end of February 2020.
Whilst the company inferred there will be an impact to its FY21 financials from ongoing COVID-19 effects on shopping malls, I think the sell-off appears overdone and the company has no plans to do a capital raising.
It's not my type of business, but it could be a solid buy today at such a cheap price for a medium term recovery.
2020: 3 stocks to buy for the long run
Amidst the confusion, some researchers value the entire cloud computing market at approximately $US210 billion. If you ask me, it seems clear as day that this HUGE market is only going to get bigger in 2020 and beyond.
Our top investment analyst has just identified 3 growth stocks in a net cash position, with strong competitive forces... and obvious tailwinds at their back.
Claim your FREE investing report on our analyst's "3 best share ideas for the cloud revolution" when you create a free Rask Australia account.
Our report is 100% free and unlocks hundreds of hours of bonus content.
Simply click here to access the report.
---
Disclaimer and warning: The information on this website is general financial advice only. That means, the advice does not take into account your objectives, financial situation or needs. Because of that, you should consider if the advice is appropriate to you and your needs, before acting on the information. In addition, you should obtain and read the product disclosure statement (PDS) before making a decision to acquire a financial product. If you don't know what your needs are, you should consult a trusted and licensed financial adviser who can provide you with personal financial product advice. Please read our Terms of Service and Financial Services Guide before using this website.
Disclosure: At the time of publishing, Jaz does not have a financial interest in any of the companies mentioned.