The Westpac (ASX: WBC) share price has fallen 44% since the COVID-19 outbreak hit western share markets.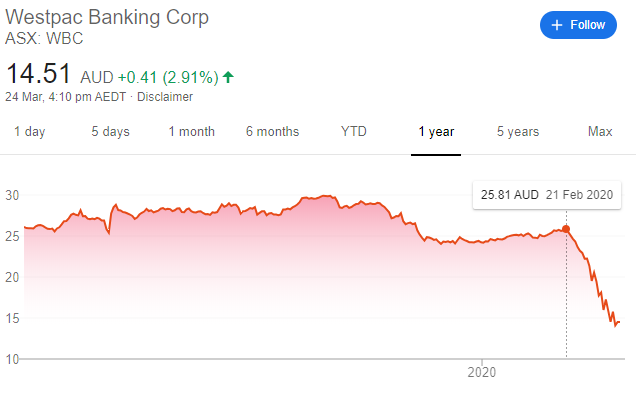 What is Westpac?
Westpac is one of Australia's 'Big Four' banks and a financial-services provider headquartered in Sydney. It is one of Australia's largest lenders to homeowners, investors, individuals (via credit cards and personal loans) and business.
Why are banks being punished so much?
The financial situation for Australia has worsened over the last month. A while ago Aussie investors just had to worry about the impacts in China and what that would do to the supply chains and things like that.
Banks are a barometer for the whole economy. If a certain section of the economy is suffering, like resources or agriculture, then the bank will see higher risks from that particular area. But this COVID-19 outbreak is causing most industries to slowdown or just shut completely. Many employees are suffering too. No income likely means no payment to the banks.
To try to support the economy, the RBA cut its interest rate to an even lower level. But that means a lower net interest margin (NIM) for Westpac, which is a key profit measure for banks. Borrowers that are having cashflow issues can have a payment holiday for up to six months.
These measures are good for the economy for the longer term, but it is likely to mean Westpac's profit and dividend are very likely to be lower this year.
Is the Westpac share price a buy?
Banks have a slow growth outlook, even in good times. The Westpac dividend yield, as good as it looks far above 10%, could be trap and I don't think it looks like a buy yet with all of this uncertainty ahead, despite the GFC-level price. For me, tech shares have better margins and better outlooks:
2020: 3 stocks to buy for the long run
Amidst the confusion, some researchers value the entire cloud computing market at approximately $US210 billion. If you ask me, it seems clear as day that this HUGE market is only going to get bigger in 2020 and beyond.
Our top investment analyst has just identified 3 growth stocks in a net cash position, with strong competitive forces... and obvious tailwinds at their back.
Claim your FREE investing report on our analyst's "3 best share ideas for the cloud revolution" when you create a free Rask Australia account.
Our report is 100% free and unlocks hundreds of hours of bonus content.
Simply click here to access the report.
---
Disclaimer and warning: The information on this website is general financial advice only. That means, the advice does not take into account your objectives, financial situation or needs. Because of that, you should consider if the advice is appropriate to you and your needs, before acting on the information. In addition, you should obtain and read the product disclosure statement (PDS) before making a decision to acquire a financial product. If you don't know what your needs are, you should consult a trusted and licensed financial adviser who can provide you with personal financial product advice. Please read our Terms of Service and Financial Services Guide before using this website.
Disclosure: At the time of publishing, Jaz does not have a financial interest in any of the companies mentioned.