The National Australia Bank Ltd. (ASX: NAB) share price was trading 12% lower today following news of further economic stimulus, conversion of bank hybrids and hot on the heels of its banking support package.
For context, the broader Australian share market or S&P/ASX 200 (ASX: XJO) was trading at 4467.9, down 7.24%.
NAB is one of the four largest banks in Australia in terms of market capitalisation, earnings and customers. However, in 2019, it was Australia's largest lender to businesses and has operations in wealth management and residential lending. It also operates the online-only Ubank.
NAB's banking support package:
Here are just some of the details you need to know about NAB's COVID-19 business support package:
The ability to defer interest and principal repayments for up to six months, on many loans
2% off the interest rates on overdraft facilities
Access to up to $65 billion of lending for pre-assessed customers, and $7 billion for fast assessments
An additional $9 billion in unsecured lending limits for existing customers
For NAB's individual customers, the following package is available:
A pause on home loan repayments up to six months (for a typical $400k mortgage, this means an ~$11k saving over six months)
A new 10-month term deposit interest rate of 1.75%, for personal customers depositing between $5k and $2 million
New fixed home loan rates, as show nbelow
First home buyers can access a new rate of 2.19% for two years
Reduced repayments on variable home loans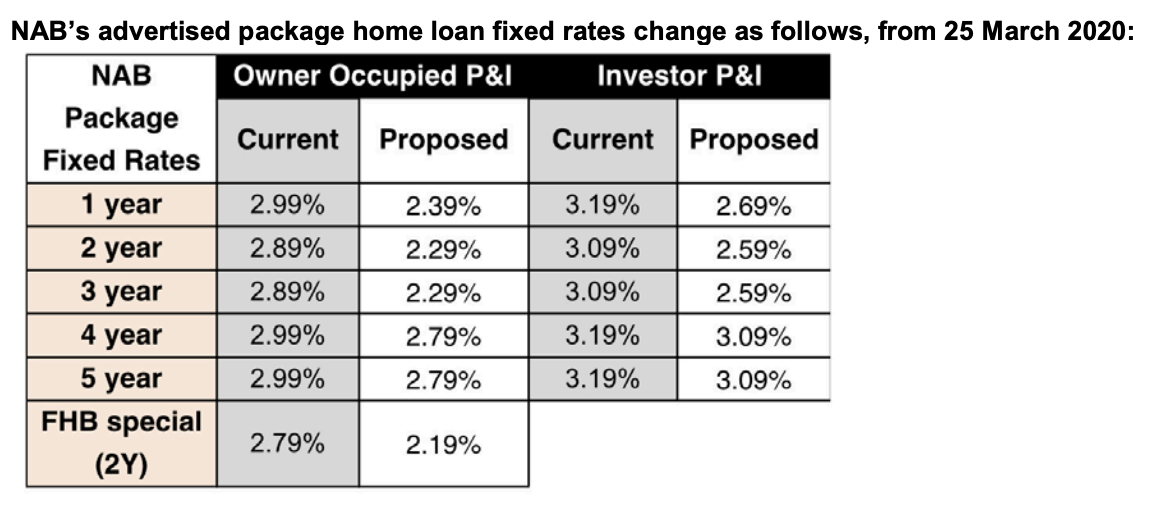 "Our focus is clear – to support our business and personal customers with their financial needs when they need it most," NAB CEO Riss McEwan said.
"Businesses in particular need help and they need it now, so we have come through with a range of measures. This support will provide cash flow relief so they can stay open, and keep people in jobs. One third of Australia's small to medium businesses bank with NAB and we are going to be there for them."
Bank hybrids are now converting to shares
Another thing many investors are concerned about, including retirees, is the mandatory conversion of bank hybrids into shares. As you can imagine, with NAB shares trading at just $14, retirees and other "safer" investors who invested in hybrids are now well underwater on their investment, as this image shows: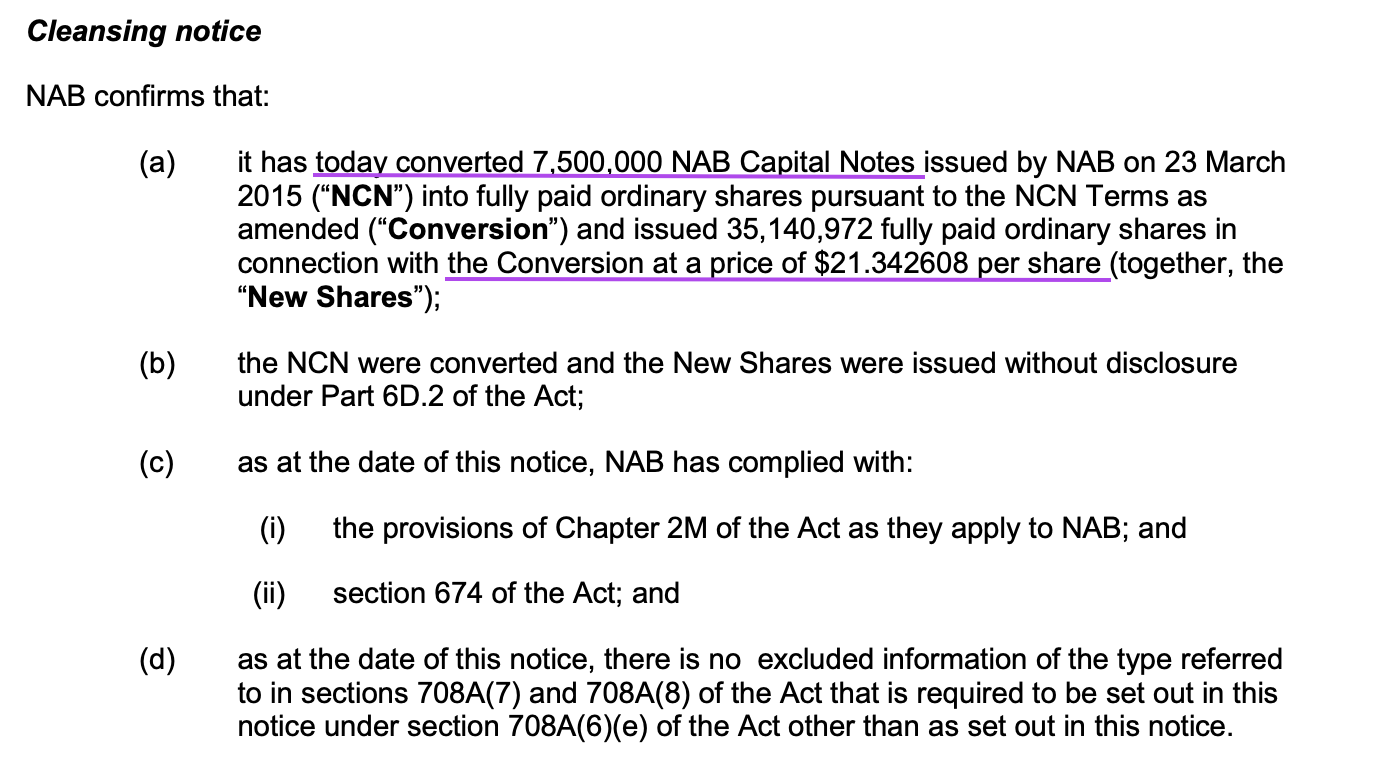 What happens now?
Obviously, the implications of COVID-19 are beginning to sink in for bank shareholders, such as those who have owned NAB shares for a long time. While there is lots of near term uncertainty for shareholders, NAB did have one reassuring statement in its update:
"Around 1 in 2 accounts are at least 6 months ahead based on redraw & offset balance; and 4 in 10 are 12 months ahead." – NAB
While the economic slowdown is undoubtedly going to hurt the banks, their dividend payments and bad debts over the next year or two, the thought that so many customers are well ahead on repayments is incredibly reassuring for the bank's shareholders.
From an investment perspective, our senior investment analyst provided his latest thoughts on bank shares in this article: "What holders of CBA shares & NAB shares can expect next"
National Australia Bank shares were last seen trading at $13.92, giving the company a market capitalisation more than $40 billion.
Disclosure: At the time of publishing, the author of this article does not have a financial interest in any of the companies mentioned.