AustralianSuper is our country's largest super fund, investing more than $100 billion of savings on behalf of Aussies at the beginning of 2020. Everyone wants to know: How has AustralianSuper's performance been during the recent crash?
The thing is, being big does not protect Australian Super members from feeling the effects of the recent stock market fall.
If you go to the AustralianSuper website you will find its performance page, but unfortunately, it says very little about its recent performance during this stock market fall.
If you're new to Super investment options, in the free Rask video below I explain the different Super investment options and what they mean. I've already explained the steps for how to choose Superannuation investment options on our education website.
As far as I can tell, if you want to find AustralianSuper's recent performance you'll have to dig into an Excel spreadsheet to find the latest results.
If — like me — you'd rather someone else do it, you're in luck. Here's how AustralianSuper has performed since January 1st, 2020 until Wednesday, March 18, 2020, based on its data.
AustralianSuper performance 2020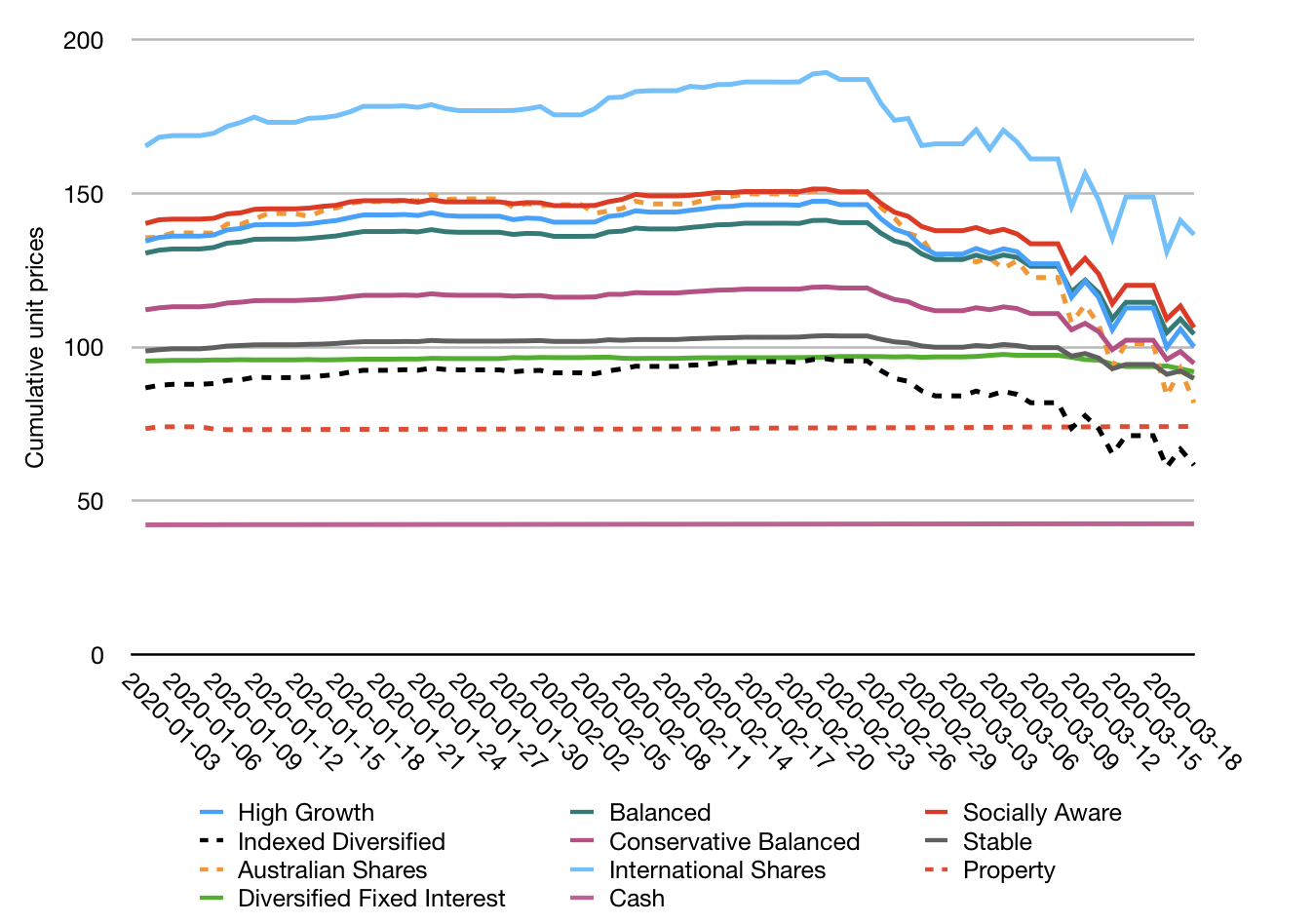 Percentage falls by strategy in 2020
If you're on a mobile phone you may need to turn your phone sideways for a better look.

Now what?
This is not a story to stick the boot into AustralianSuper necessarily — they're my super fund, and stock market crashes are normal — but I'm pretty annoyed about the (lack of) transparency. I had to dig into the files to show this, and I'm a finance expert.
I'm certain most of the 2.2 million members inside AustralianSuper are not financial advisers like me or probably know what's happened in financial markets.
Now, I understand that Super funds are in a world of pain right now with lots of members swapping to cash strategies. And for almost every Aussie who's not retired, I think it's wrong to swap your Super to all cash, so please avoid doing this!
But for all Super funds, in times of extreme financial uncertainty, it's important to be very clear, transparent and communicate often with your members. Believe me, I know this.
Should I swap my Super to cash?
I'm around 30 years old. Meaning, I can't touch my Super until I'm either dead or probably for another 40-50 years. I would never switch to cash after the market has crashed. I haven't done that. I've remained fully invested.
Even older Aussies — those in their late 40 or 50s — may not be able to access or rely their Super for another 10 years. That's a long period of time for Super to recover. Having it in cash for 10 years will mean you lock in returns close to zero.
To be sure, we can expect more scary times in the weeks and months and years ahead. But moving everything to cash now might be something a lot of Aussies regret for the rest of their financial lives.
Over the next few months, I intend on doing a thorough review of my super fund and providing an update to my Rask Invest members and free Rask account holders. Create a free Rask account to stay up to date if you're interested in my results. Click here to create a free account. 
2020: 3 stocks to buy for the long run
Amidst the confusion, some researchers value the entire cloud computing market at approximately $US210 billion. If you ask me, it seems clear as day that this HUGE market is only going to get bigger in 2020 and beyond.
Our top investment analyst has just identified 3 growth stocks in a net cash position, with strong competitive forces... and obvious tailwinds at their back.
Claim your FREE investing report on our analyst's "3 best share ideas for the cloud revolution" when you create a free Rask Australia account.
Our report is 100% free and unlocks hundreds of hours of bonus content.
Simply click here to access the report.
---
Disclaimer and warning: The information on this website is general financial advice only. That means, the advice does not take into account your objectives, financial situation or needs. Because of that, you should consider if the advice is appropriate to you and your needs, before acting on the information. In addition, you should obtain and read the product disclosure statement (PDS) before making a decision to acquire a financial product. If you don't know what your needs are, you should consult a trusted and licensed financial adviser who can provide you with personal financial product advice. Please read our Terms of Service and Financial Services Guide before using this website.