The De Grey Mining Limited (ASX:DEG) share price was trading 20% higher today following the release of an investor presentation and mining update this week
For context, the broader Australian share market or S&P/ASX 200 (ASX: XJO) was trading at 7135.4, up 0.45%.

About De Grey Mining Limited
De Grey Mining is a West Australian mining company which owns the Pilbara Gold Project, located in-land from Port Hedland. The project expands to an area around 150 kilometres, or 1,500km squared. De Grey owns 100% of its tenements in the Mallina, Mt Berghaus, Withnell, Toweranna and Wingina regions.
De Grey Mining Limited's investor presentation & drilling update
Amongst its statements made this week, De Grey released a report showing additional "thick and high-grade gold mineralisation" at its Hemi prospect.
De Grey's technical director, Andy Beckwith, said, "Clearly, drilling below this zone and the mineralisation on Section B are two key high priority RC targets."
"We are looking forward to receiving the remaining aircore drilling results and re-commencing drilling activities now the cyclone has dissipated."
The drilling at Section A of the prospect showed grades ranging from 5.1 grams per tonne of ore/dirt milled to 6.6 grams per tonne.
For context, the World Gold Council says high-quality underground mines, which tend to be more fruitful than above-ground mines, have a gold density of 8 to 10 grams per tonne. Low-quality grades would be between 1 and 4 grams per tonne.
What Happens Next?
De Grey Mining Limited shares were last seen trading at $0.21. The company is a 'small-cap' by all definitions, since it is priced by the financial market at less than $250 million in market capitalisation.
Online Value Investing Course - FREE!
How do you value an investment? Do you really understand what you're investing in and why?
We've just updated our FREE business valuation course and made it available to investors like you. Complete with models, templates and tools, simply click here to access the course.
It's completely free!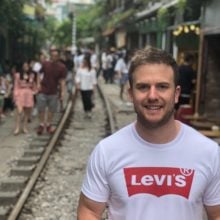 Owen Raszkiewicz
Owen Raszkiewicz is the Founder of Rask Australia and lead educator at Rask Education. He is host of The Australian Investors Podcast and co-host of The Australian Finance Podcast. When Owen is not reading about finance he's following Chelsea, Hawthorn Hawks and the Storm. He holds a Master's Degree in Financial Planning, a Master's Degree in Applied Finance, Bachelor's Degree in Technology, and has passed level 1 of the Chartered Financial Analyst program amongst other things.