The Boral Ltd (ASX:BLD) share price was trading 10.29% lower today following news of a profit guidance update and manipulated financial results.
For context, the broader Australian share market or S&P/ASX 200 (INDEXASX: XJO) was trading at 7019.2, down 0.05%.

Who is Boral?
Boral is an international building products and construction materials business employing more than 25,000 employees and contractors, Boral's operations span 850 building and construction materials operating and distribution sites globally.
EBITDA Explained
The Rask video above explains EBITDA and how to calculate it accurately. For more free videos, subscribe (free) to Rask Australia's YouTube channel.
What Happened to Boral?
Boral shares fell as much as 11% today following a dividend and trading update, amongst other things.
Financials Overstated
Interestingly, Boral provided an update on its North American Windows business saying that it employed lawyers and forensic accountants to inspect the accounts.
The experts found certain personnel within the division had, "manipulated accounts and financial statements primarily to artificially inflate the overall profitability and health of the Windows business."
Boral's outgoing CEO, Mike Kane, said his team was "deeply disappointed" by the revelations and have implemented extra oversight across the business.
"We apologise for this failure and assure shareholders that such manipulation of figures will never be tolerated within the Group." – M. Kane, Boral CEO
The findings showed that employees overstated accounts by $US24.4 million between March 2018 and October 2019. Previously, Boral had estimated the EBITDA impact to be between $US20 million and $US30 million.
FY20 Half Year Results
In another update, Boral provided trading guidance for the first half of its 2020 financial year showing estimated EBITDA of $440 million, down 6% versus the restated guidance from 2019. Excluding effects from new accounting standards, Boral's EBITDA was up from $470 million to $493 million.
An interim dividend of 9.5 cents per share, with 50% franking, was declared.
Outlook
"Boral's first half results for FY2020 are broadly in line with our guidance but we have seen a challenging start to the second half of the year," Boral CEO Mike Kane said.
The company anticipates an underlying profit (NPAT) result of between $320 million and $340 million, versus the $420 million in 2019. While this is happening, the company is planing to pursue opportunities to divest non-core assets.
Boral shares were last seen trading at $4.62, giving the company a market capitalisation more than $5 billion.
Online Value Investing Course - FREE!
How do you value an investment? Do you really understand what you're investing in and why?
We've just updated our FREE business valuation course and made it available to investors like you. Complete with models, templates and tools, simply click here to access the course.
It's completely free!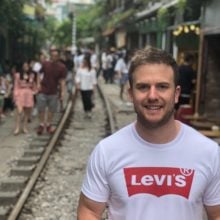 Owen Raszkiewicz
Owen Raszkiewicz is the Founder of Rask Australia and lead educator at Rask Education. He is host of The Australian Investors Podcast and co-host of The Australian Finance Podcast. When Owen is not reading about finance he's following Chelsea, Hawthorn Hawks and the Storm. He holds a Master's Degree in Financial Planning, a Master's Degree in Applied Finance, Bachelor's Degree in Technology, and has passed level 1 of the Chartered Financial Analyst program amongst other things.