Josh Clark, CFA from QVG Capital recently sat down with Owen Raszkiewicz to talk about his journey to investing, long and short investing on the ASX, how quantitative strategies mix with his more qualitative research and lots more.
Talking points:
Some of the key topics discussed include:
2:30 – Josh's early life and how a job at McDonalds shaped his attitude towards money, saving and investing
11:20 – How and why Josh Clark, CFA went about getting into investment management
18:00 – Josh Clark, CFA and the QVG Capital investment process
39:00 – Share valuation accounting tricks and traps, and tips short sellers use to spot red flags
42:30 – How Josh Clark, CFA assesses management teams
46:00 – How to manage a share portfolio – QVG Capital's Josh Clark, CFA
1:02:00 – How quant is shaping (and helping) ASX sharemarket investors – QVG Capital's Josh Clark, CFA
1:09:00 – Is short selling ruining the share market?
Show notes: https://www.raskfinance.com/carlos-gil-australian-investors-podcast/
Learn more about Josh: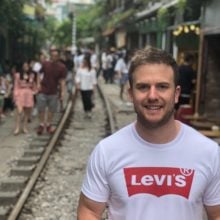 Owen Raszkiewicz
Owen Raszkiewicz
is the Founder of The Rask Group, which includes Rask Finance, Rask Invest and Rask Media. Owen's members-only investment website (Rask Invest) includes access to his top share ideas from the ASX and international markets, as well as many pages of education on budgeting, everyday finances and more. When Owen is not reading about finance he's following Chelsea, Hawthorn Hawks and the Storm. He holds a Master's Degree in Financial Planning, a Master's Degree in Applied Finance, Bachelor's Degree in Technology, and has passed level 1 of the Chartered Financial Analyst program amongst other things. To see all of my ASX and global holdings, please consider joining
Rask Invest
.
Related posts