As part of our members-only Rask Invest research service, our team provides research on a handful of 'bonus' Watchlist Stocks.
These are usually very high-quality companies with aligned management and long-term growth potential.
However, they're on our watchlist — and not in our portfolio — because there's something holding us back…
Something we need to see before we'll pull the trigger and issue a Buy Alert direct to Rask Invest members' email inboxes.
Did We Miss The Boat On Premier?
The bittersweet reality is because we have an extremely high-quality investment checklist, our team will often fail to pull the trigger on a company. In the following video I explain what we look for in ASX and global shares:
https://www.youtube.com/watch?v=JYCx0lwtiGg&t=2s
For example, our focus on valuation saw us miss Nanosonics (ASX: NAN) and, arguably, Afterpay (ASX: APT).
And it seems to have happened this past week with Premier Investments Ltd (ASX: PMV), one of Rask Invest's few Watchlist Stocks.
Premier Investments is run by one of the savviest retailers in the country, Solomon Lew.
PMV owns retail brands like Smiggle, Just Jeans, Peter Alexander, Jays Jays and more. It also owns just over 28% of appliance maker Breville (ASX: BRG).
PMV was listed on the ASX in December 1987 to be an investment vehicle to acquire or attain controlling stakes of 'premier' Australian companies with a particular focus on retailing, importing and distributing. Hence the name.
Since the late 90s, the company has massively improved the fortunes of its shareholders with strong regular dividends and robust capital gains.
The perfect combination for any investor.
PMV's high management quality, growth brands like Smiggle and Peter Alexander, sturdy balance sheet and regular dividend are just some of the reasons why the company's shares caught our attention at Rask Invest.
Premier Shares Jump 22%
On Friday, PMV shares leaped as much as 22% on the back of its FY19 report.
The key takeaways were as follows:
Like-for-like sales growth of 4.2%
Profit after tax up 23%
A final dividend of 37 cents, up 12%
PMV's FY19 dividends now stand at an impressive 70 cents per share, fully franked. That's a dividend yield of a touch under 4% at Friday's closing share price.
I think you'll agree that with those franking credits it's a very handy yield in this low-interest environment.
Why Don't We Own PMV For Rask Invest?
Here's what we told Rask Invest members a few months ago when we identified PMV's as a potential long-term ASX stock idea:
"An investment in Premier provides exposure not only to sector-leading brands like Smiggle and Peter Alexander but also to the general apparel brands of Just Jeans, Jay Jays, Dotti, Portmans and Jacqui E. We could see these mass-market brands facing excessive margin pressure from the online and in-store competition since they lack brand differentiation."
Fortunately for shareholders, during FY19, many of PMV's "mass market brands" (as we call them) performed exceptionally well because they closed stores.
While I'd almost always prefer our portfolio businesses to be growing rapidly, it's a breath of fresh air to see a management team know when to pull back on unprofitable ventures.
PMV Share Valuation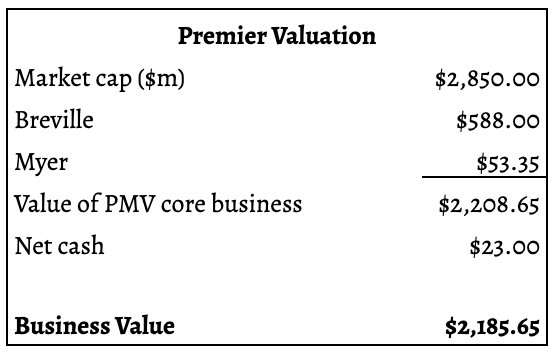 Since it holds such large chunks of other companies, PMV has some accounting nuances which need to be understood by investors. Perhaps that's a topic for another article (note: it'll be something I cover at our investing Workshops).
In brief, take a look at the table above. If we back-out the components of PMV's core business and compare it to the current price, it really isn't too expensive for such a high-quality company.
Sure, after Friday's share price rise it's a bit richer. But even still, I don't think it's too bad, especially if their mass-market brands hold their weight and Smiggle hits its long-term revenue target of $450 million by calendar year 2021 or 2022.
Will We Buy Shares?
We've provided a fuller update on PMV to our members. As it stands, we're still watching Premier shares very closely.
There are risks all investors need to weigh up, such as the uncertain Australian economic environment and online disruption. Investors should consider all risks before buying shares.
In any case, with a decent dividend yield and modest profit growth potential, it may be worth revisiting PMV shares for your ASX portfolio.
Online Value Investing Course - FREE!
How do you value an investment? Do you really understand what you're investing in and why?
We've just updated our FREE business valuation course and made it available to investors like you. Complete with models, templates and tools, simply click here to access the course.
It's completely free!
---
Disclaimer and warning: The information on this website is general financial advice only. That means, the advice does not take into account your objectives, financial situation or needs. Because of that, you should consider if the advice is appropriate to you and your needs, before acting on the information. In addition, you should obtain and read the product disclosure statement (PDS) before making a decision to acquire a financial product. If you don't know what your needs are, you should consult a trusted and licensed financial adviser who can provide you with personal financial product advice. Please read our Terms of Service and Financial Services Guide before using this website.
Disclosure: At the time of writing, Owen does not have a financial interest in any of the companies mentioned.