The Zip Co Ltd (ASX: Z1P) share price charged 7% higher today as the S&P/ASX 200 (INDEXASX: XJO), trended lower.
About Zip Co
Zip Co provides customers with a revolving line of credit to finance their retail purchases with its brands Zip Pay, Zip Money and Pocketbook.
It is one of the largest Buy Now, Pay Later (BNPL) providers in Australia. Some of its biggest clients include Bunnings Warehouse, owned by Wesfarmers Ltd (ASX: WES), Appliances Online, EB Games and Officeworks.
Zip says it has more than 16,000 retail partners and 1.3 million customers in Australia.
Zip Co Shares On A Tear
The chart below compares the performance of Zip Co shares to the All Ordinaries (INDEXASX: XAO), a proxy for the entire Aussie sharemarket.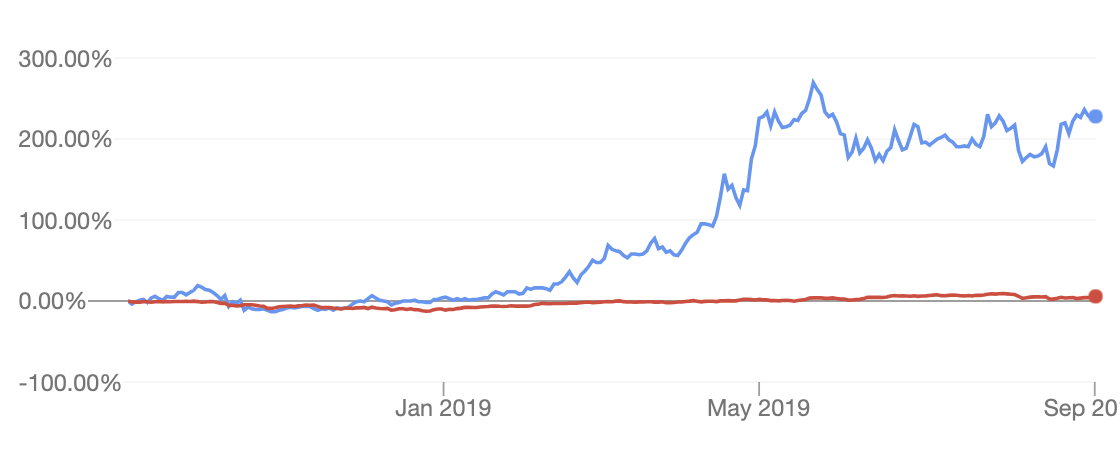 As can be seen, Zip shares are up a staggering 200% (plus change) over the year. That compares to a relatively flat performance from the Australian share market.
Can Zip Continue?
As Rask Media's Jaz Harrison reported here, the BNPL provider has experienced explosive growth in users over the past 12 months (up 80% year-over-year) which, together with more transactions conducted on the company's platform, enabled it to increase revenue 138% to $84 million in FY19.
Last week, Zip Co also announced that that it raised $500 million for its Zip Master Trust, a funding structure that the company says will help fulfil its requirements over time.
However, it's important to note that Zip Co is still loss-making — it reported a loss of $22 million last year.
Fortunately for shareholders the lack of profits doesn't appear to have dented analysts' expectations with three analysts surveyed by The Wall Street Journal putting bullish ratings on the shares (e.g. "Buy" or "Overweight"). The average price target for shares is $3.67 — slightly below today's share price.
Buy, Hold or Sell?
Out of Afterpay Touch Group Ltd (ASX: APT), Zip Co and Splitit Ltd (ASX: SPT), Zip is probably the one I like the least given the huge debt funding provided by a bank (NAB) to subsidise the credit. Having said that, if it can hit its target of 2.5 million customers and continue to manage its debt pile very carefully I might be tempted to buy shares for the long run. But I'm not in rush right now.
Given our preference at Rask is to avoid companies with high amounts of debt for risk reasons, there are hundreds of other ASX shares that I'll be focusing on before Zip Co.
Online Value Investing Course - FREE!
How do you value an investment? Do you really understand what you're investing in and why?
We've just updated our FREE business valuation course and made it available to investors like you. Complete with models, templates and tools, simply click here to access the course.
It's completely free!
---
Disclaimer and warning: The information on this website is general financial advice only. That means, the advice does not take into account your objectives, financial situation or needs. Because of that, you should consider if the advice is appropriate to you and your needs, before acting on the information. In addition, you should obtain and read the product disclosure statement (PDS) before making a decision to acquire a financial product. If you don't know what your needs are, you should consult a trusted and licensed financial adviser who can provide you with personal financial product advice. Please read our Terms of Service and Financial Services Guide before using this website.
Disclosure: At the time of publishing, Owen does not have a financial interest in any of the companies mentioned.