The Australian and ASX ETF market is growing like crazy, with nearly 200 ASX ETFs on the complete list of ASX ETFs.
According to a press release from Vanguard Australia today, which quotes ASX figures, more than $1.8 billion was invested in Australian ETFs in the first three months of 2019. That compares to $1.53 billion in the same quarter last year.
What Are ETF Investors Buying?
International share ETFs are still the #1 priority for Australian investors, likely because they want to get convenient exposure to the world's best overseas companies and diversify away from Australian property and bank shares – I don't blame them!
A total of 37% of all money entering ASX ETFs was invested in global share ETFs, like those provided by iShares and Vanguard.
However, the most 'interesting' development during the quarter was the push for more fixed income or bond ETFs, which are often favoured by investors who are concerned about risk in the economy and sharemarkets.
Around 27% of all ETF investment went into bond ETFs during the quarter, up from 16% in the same quarter of 2018.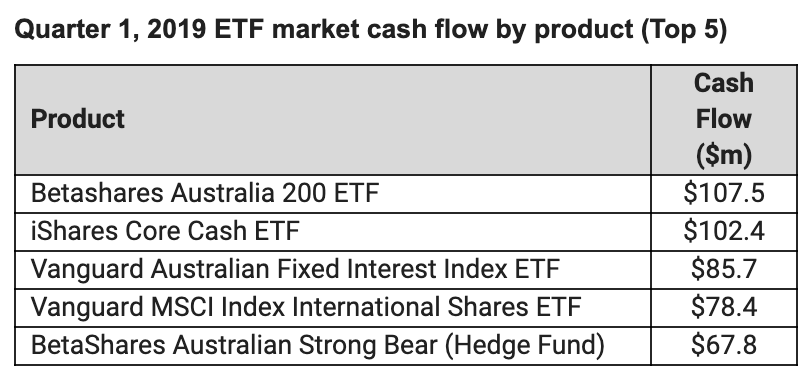 Looking at the top five ETFs for new investment, the relatively new BetaShares Australia 200 ETF (ASX: A200) was number-one, with $107 million being added during the quarter.
At the issuer level, Vanguard is still number-one on the ASX — and by some distance. According to its latest press release, the organisation is now home to $13.8 billion of the total $45.8 billion invested on the ASX, or around 31%.
"Vanguard continues to see strong flows, particularly into its broad-based index ETFs which represent a low cost solution for investors looking to add instant diversification to their portfolios – and this quarter we recorded our strongest start to a year ever with $624 million in inflows," Vanguard's Head of ETF Capital Markets, Damien Sherman, said.
What Now?
The ETF industry is growing rapidly and now offers more than just vanilla 'index funds' or 'passive' investments. The growth of 'active ETFs' and the weird and wonderful world of 'smart beta' strategies is likely here to stay, so now more than ever it's vital you consider 'what' you are buying before you make a decision to invest in an ASX ETF.
The PDS or 'Product Disclosure Statement' (usually available on the Issuer's website) is a good place to start.
If you're looking to invest in ETFs but don't know where to start, you can get our #1 ETF of 2019 in our free investing report below. We'll also email you a link to our new ETF investing course.
Online Value Investing Course - FREE!
How do you value an investment? Do you really understand what you're investing in and why?
We've just updated our FREE business valuation course and made it available to investors like you. Complete with models, templates and tools, simply click here to access the course.
It's completely free!
---
Disclaimer and warning: The information on this website is general financial advice only. That means, the advice does not take into account your objectives, financial situation or needs. Because of that, you should consider if the advice is appropriate to you and your needs, before acting on the information. In addition, you should obtain and read the product disclosure statement (PDS) before making a decision to acquire a financial product. If you don't know what your needs are, you should consult a trusted and licensed financial adviser who can provide you with personal financial product advice. Please read our Terms of Service and Financial Services Guide before using this website.
At the time of publishing, Owen Raszkiewicz owns shares/units in the BetaShares A200 ETF.