The performance of Alex Waislitz' Thorney Opportunities Ltd (ASX: TOP) has been lacklustre in 2018 and is a key reason why it's trading at a sizeable discount to its net tangible assets (NTA).
TOP spent its first few years of life regularly at a premium. Now it has recently been at a discount to pre-tax NTA of circa 15-20%. It came to the ASX via a backdoor listing in 2013 and has outperformed the ASX200 Accumulation Index after fees. Does that make TOP a buy?
Alex Waislitz And His Stock Picking Skills 
The Waislitz background differs from your typical fund manager, and it has served him very well. It dates back to cold calling some of Australia's famous businessmen from the 80s. He was managing money for the Pratt family, which is where his investing prowess came to fame. He reportedly created staggering wealth as he managed to convince Richard Pratt to manage an initial "small" portfolio from the early 90s. Other well-respected investors close to him have described this compounding effort there as "Buffett like".
He achieved this in part by being willing to take concentrated positions. He was also prepared to engage with the management of companies to achieve better results. This is still a feature of the Thorney Opportunities LIC as it stands today.
High Fees Can Be Tolerable
One criticism of TOP is the fee structure, so let's get straight to it. It consists of a base management fee of 1.5% per year and a performance fee of 20% of the gains in the portfolio. There is no "high watermark" feature. So, yes, TOP is about as expensive as it gets!
Having said that if a manager can consistently cover those fees, and still produce returns well above the benchmark, isn't that what counts? A key to this question is whether it is sustainable going forward.
The Waislitz reputation may indicate that he has managed to do that in the past. In terms of the life of this LIC, Thorney Opportunities has been able to achieve strong performance after fees & costs.
However, I am wary of placing too much confidence that this will carry on into the future.
Fees And AUM Can Act As A Weight On Performance
I liken Thorney Opportunities to how the best horses can be weighted out of favouritism in the Melbourne Cup. In this case, consider if they were to achieve a solid 10% per annum gross return on their stock picks. Using the fee structure of TOP, however, it's more like 6% after costs.
Another factor on my mind is that the great reputation Waislitz earned as an investor was at least in part achieved with smaller assets under management or AUM. It has been interesting to see some notable high fee hedge fund managers in the US finding it difficult after growing their fame and AUM.
Could You Assemble A Similar Portfolio Yourself?
Thorney Opportunities is quite upfront with their disclosure of investment positions in the portfolio. Below is a snapshot from the AGM late last year.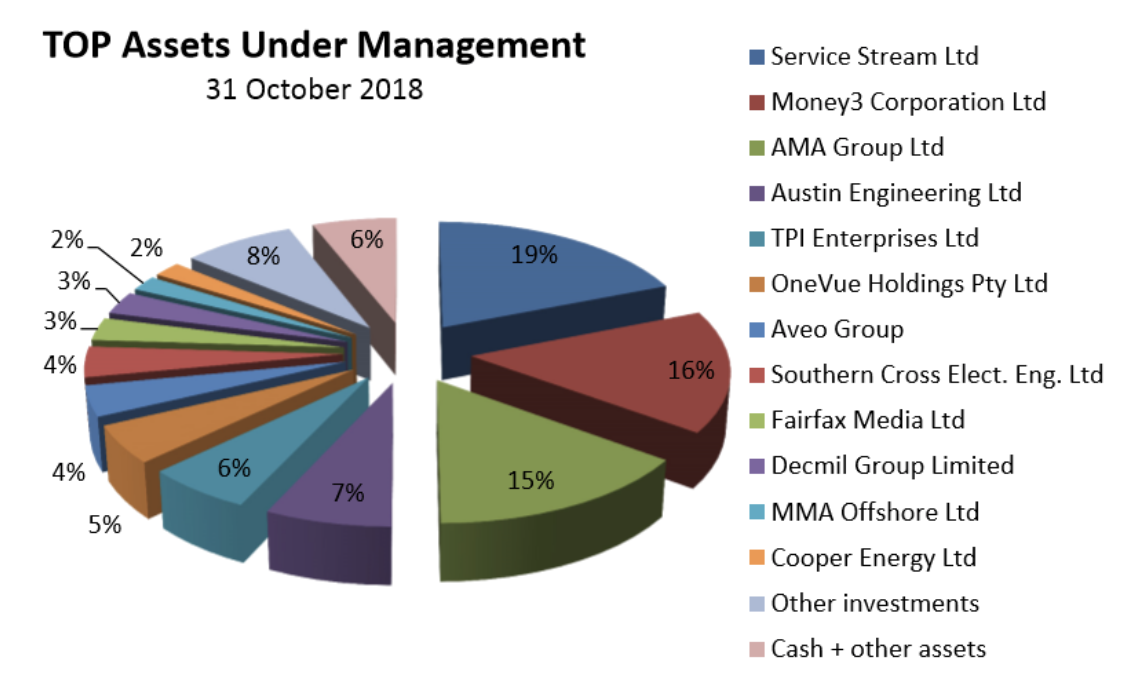 Source: TOP's ASX 2018 Chairman's Address 21/11/18
The point I would make here is that often Thorney Opportunities has sizeable stakes in the investee companies. They haven't turned over their investments that regularly to date, and I doubt much will change going forward. That raises the question of whether those that rate Thorney's investing skills would be better off accumulating the stocks directly?
In my opinion, it is not the same thing and the risk is you do worse as management adds value from changing the mix in between reporting periods. Then again, your investments wouldn't get deflated by high investment management fees.
I certainly couldn't pretend to be an expert in all of the stocks in the TOP portfolio. Taking a longer-term view, I think you would need to have quite a bullish view on the stocks above to get involved in this LIC due to the fee structure. But if that is the case it may be better to own them directly.
Conclusion
Thorney Opportunities is a quality investment firm, but I don't find the current large discount to NTA enticing enough at this point in time for me to own the LIC. The LIC takes concentrated positions and pays a low dividend yield, features I personally don't mind. Yet, I have observed that LICs with these characteristics are more likely to trade at persistent discounts.
Disclosure: At the time of publishing, Steve does not own shares in Thorney Opportunities Limited.