BWX Ltd (ASX: BWX) shares took a dive today, falling 39%, following yet another disappointing update from management.
Who Is BWX?
BWX is a wholesale distributor and owner of skincare and other wellness products for the beauty sector. It's best-known for its range of Sukin skincare products, but it also owns Andalou Naturals, Mineral Fusion and Edward Beale. Its products are sold throughout Australia and USA, and the range is available online throughout Asia.
What's Going On?
To understand why BWX shares are down nearly 80% in one year, we need to get a handle on the recent trading updates.
A Beauty Turns Into A Beast
Until early 2018, BWX appeared to be a great business with a great product. Sukin was being rubbed all over the bodies of men and women throughout Australia and abroad.
It was selling out on shelves. It was expanding overseas. Consumers loved it. Businesses loved. Shareholders loved it.
Indeed, revenue grew from $10 million in 2014 to over $116 million in 2018. The kind of growth dreams are made from.
But as if BWX's thick profit margins weren't enough, it was also about to go on an acquisition spree. It was offering literally organic growth with acquisitive growth on top. Too good to be true, right?
Wrong.
Red Flag #1 : Acquisitions
To me, the first red flag came when BWX started buying other companies. Why would a company that is supposedly growing fast acquire other businesses? Synergies sound great in theory but why expand into a new brand when your first product is so good?
To me, unless there are very compelling reasons why the acquisition is a good idea (admittedly, BWX's sounded pretty good), it's a red flag. Not a thesis breaker — but a flag.
Red Flag #2: Failed takeover
In early 2018, BWX was the target of a takeover from people in its own management team and Bain Capital. The offer was for $6.60 per share and subject to conditions, including due diligence. 
A few months later, in September, the deal fell over as the suitors announced they would not buy the company. Here's how I interpreted that…
A buyer lodges a highly conditional offer. They did some digging. They decided not to buy. That's concerning.
Red Flag #3: Momentum
According to another update, BWX said the management buyout (aka the takeover) caused "significant disruption and loss of business momentum". I can see how that happens — focus is unbelievably important in growth businesses (see my point about acquisitions).
In an update, BWX's CEO said the team would be re-energised and momentum was coming back: "After a period of disruption and critical platform work that will impact 1HFY19, management are encouraged by the outlook for 2HFY19 and beyond."
Management said they expected BWX to report normalised EBITDA of $40.3 million in 2019 (click here to learn what EBITDA means). That is, broadly in-line with 2018.
Red Flag #4: Trading Update
Today, BWX finally conceded that it won't achieve its own profit/EBITDA guidance.
The company released a trading update to investors saying it expects its 2019 financial year EBITDA to be in the range of $27 million to $32 million. However, EBITDA in the first half is expected to be just $7 million.
This disappointing update follows previous guidance from BWX which said it would achieve "normalised" EBITDA of $40.3 million — with around $12 million to be achieved in the first half.
BWX pointed to softness in sales in China, loss of momentum in the US and issues with Sukin locally.
"It is disappointing that China volumes were weaker than expected," BWX CEO Myles Anceschi said.
"We have further refined our go-to-market strategy to improve pricing controls, and ownership by signing an exclusive distribution agreement effective December 2018, that will yield more focused efforts on growing this high-growth export channel with an established partner."
Were there any positives?
In my opinion, there was one positive to come from the update. BWX pointed to improving monthly unaudited EBITDA results for September, October and November, as shown below: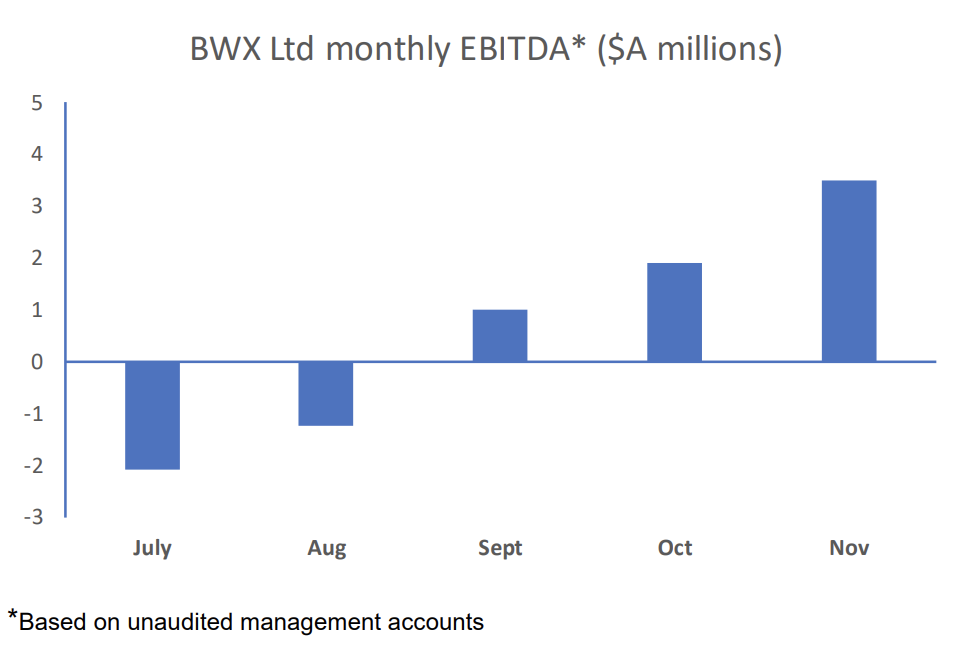 What Now?
I don't have a financial interest in BWX shares, let's make that clear.
But in my opinion, there have been numerous red flags surrounding the fate of BWX. For example, the failed management buyout was a serious cause for concern. So too was the lack of transparency around the underlying sales of Sukin — the company's number-one product.
Also in my opinion, BWX shares look cheap now given the sell-off, especially if the unaudited EBITDA chart from above continues to move in the right direction. However, there are over 2,000 companies on the ASX and many thousands more abroad, so I'm not in rush to buy BWX shares.
At the very least I'd wait for the dust to settle.
3 tech stocks for a massive COVID-19 rebound
Amidst the COVID-19 confusion, some cloud-based companies are growing... FAST!
Meanwhile, industry researchers are valuing the entire cloud computing market at $US210 billion. If you ask me, it seems clear as day that this HUGE market is only going to get bigger in 2020 and beyond.
Our top investment analyst has just identified 3 growth stocks in a net cash position, with strong competitive forces... and obvious tailwinds at their back.
Claim your FREE investing report on our analyst's "3 best share ideas for the cloud revolution" when you create a free Rask Australia account.
Our report is 100% free and unlocks hundreds of hours of bonus content.
Simply click here to access the report.
---
Disclaimer and warning: The information on this website is general financial advice only. That means, the advice does not take into account your objectives, financial situation or needs. Because of that, you should consider if the advice is appropriate to you and your needs, before acting on the information. In addition, you should obtain and read the product disclosure statement (PDS) before making a decision to acquire a financial product. If you don't know what your needs are, you should consult a trusted and licensed financial adviser who can provide you with personal financial product advice. Please read our Terms of Service and Financial Services Guide before using this website.