Hub24 Ltd (ASX: HUB) is a leading investment and superannuation platform offering a wide range of products for advisers and investors.
What does Hub24 Do?
Hub24 is an Australian financial technology business that creates portfolio management and Superannuation software. Founded in 2007, you can think of Hub24's software as a way to better manage investments in shares and other assets.
Hub24 has a strong management team with decades of experience within the wealth management industry and in the development of platforms.
Success Driven by Satisfaction
Hub24's success has been driven by the satisfaction its platform has provided to its customers. Hub24's platform ranked third in satisfaction behind Netwealth Group Ltd (ASX: NWL) and CFS FirstChoice according to the Investment Trends 2018 planner technology report.
I think Hub24's growth potential is clear, as it captured ~18% of all platform inflows in FY18, whereas its current market share of funds under administration is only 1%, according to its 2018 AGM presentation. This growth in inflows resulted in year on year revenue growth of 36% to $84 million in its 2018 financial year (FY).
How much is it worth?
Hub24's share price has risen 24% over the past 12 months, which is supported by its strong operational performance.
Based upon the current share price of $11.83 Hub24 appears very expensive with a trailing price-earnings (PE) ratio of 98x. The current market capitalisation of Hub24 is $752 million.
However, if a longer-term view is taken, I believe a 2023 market capitalisation of ~$1.66 billion is quite achievable, implying considerable upside. This valuation is based upon a range of assumptions detailed below.
Given the strong growth in flows to the Hub24 platform, I have assumed a compound growth rate in revenue of 36% per annum between FY2018 and FY2023. Forecast 2023 revenue will therefore equal ~$390M million.
I also assume the profit margin will continue to grow as its scale increases. Underlying NPAT margin expanded to 6.4% in FY18, from 3.9% in FY17. Hub24's most comparable and larger competitor Netwealth achieved a profit margin of 34.9% in financial year 2018.
I will assume a conservative profit margin of 25% to be achieved in 2023, translating into a net profit in excess of $97 million.
Applying a PE ratio of 17, Hub24 could have a market capitalization of $1.6 billion in 2023. However, these are simply my forecasts and things can change quickly.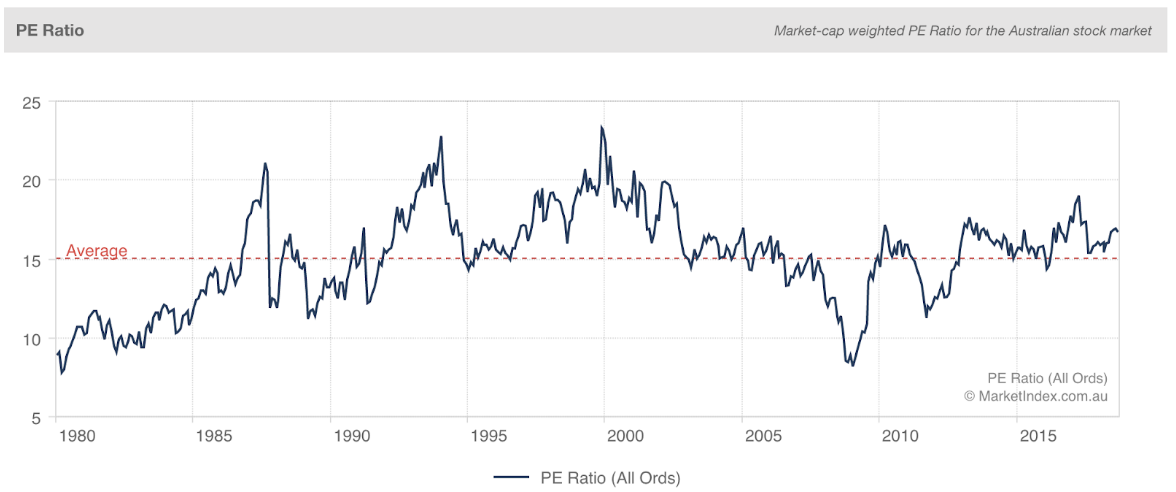 Having said that, the historical PE ratio for an average company on the ASX is approximately 15x, as illustrated above. I have assumed a price-earnings ratio of 17, as Hub24 is a company with above-average growth prospects.
Summary
Hub24 is a growing fintech company that is well managed and has room to expand its profit margins. However, investors need to pay up for the right to own its shares. Nonetheless, in my opinion, I see value in the shares today.
Free report: 2 Rapid Growth ASX Shares
[ls_content_block id="14947″ para="paragraphs"]