G8 Education Ltd (ASX: GEM) is rising after the company released a trading update showing that occupancy levels are growing.
G8 Education is one of Australia's largest childcare operators.
G8 Education's Trading Update
The early learning business reported that occupancy levels in the second half continue to grow quicker than the usual trend seasonal improvement.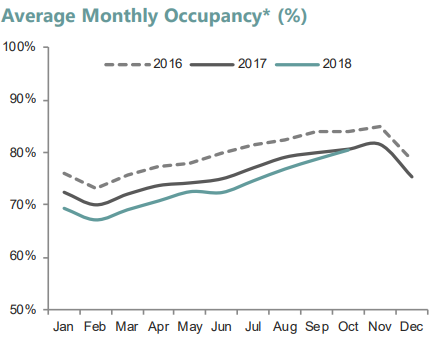 The company also said that like for like occupancy growth has continued to improve faster than prior year growth rates, with the latest quarter showing the biggest difference.
Whilst occupancy has been improving, 'Wage Hours Per Booking' has remained in line with last year, resulting in a better wage efficiency compared to the previous six month period.
G8 Education said that it is now targeting 19 greenfield childcare centres to be opened during 2019, compared to the previous target of 16.
The company revealed that 2016 and 2017 greenfield acquisitions are performing to expectations, however the 2017 brownfield cohort was below forecast due to ineffective channelling of web enquiries.
G8 Education is now predicting that the 2018 calendar year will deliver EBIT of $136 million to $139 million (click here to learn what EBIT means).
The G8 Education share price is up 7% in response to this news according to Google Finance.
Read Next: 3 Proven ASX Shares
The Rask Group Pty Ltd has issued its latest investing research report on 3 proven ASX dividend + growth shares. Click here to access the free report. No credit card or payment required. (sponsored)