TPG Telecom Ltd (ASX: TPM) has released fresh details on its plans to merge with Vodafone Hutchison Australia Ltd (ASX: HTA) and become a $15 billion telco heavyweight.
As we reported a week ago, speculation has been swirling that the two will form to create Australia's third-largest mobile operator.
TPG Telecom owns part of Hutchison Telecommunications and currently uses its network to wholesale TPG mobile services. TPG, which is valued at $7.3 billion, is also rolling out a fast 5G mobile network in Australia's capital cities, presenting a threat to Telstra and Optus.
What TPG Shareholders Need To Know
According to an ASX filing today, TPG and Hutchison will complete a "merger of equals" and establish a fully integrated network operator.
For Hutchison, which is responsible for the Vodafone brand in Australia, the deal may be necessary for survival in an industry with intense competition which is now dealing with TPG's aggressive pricing strategies.
The merged group will be 49.9% owned by TPG shareholders and 50.1% of VHA shareholders.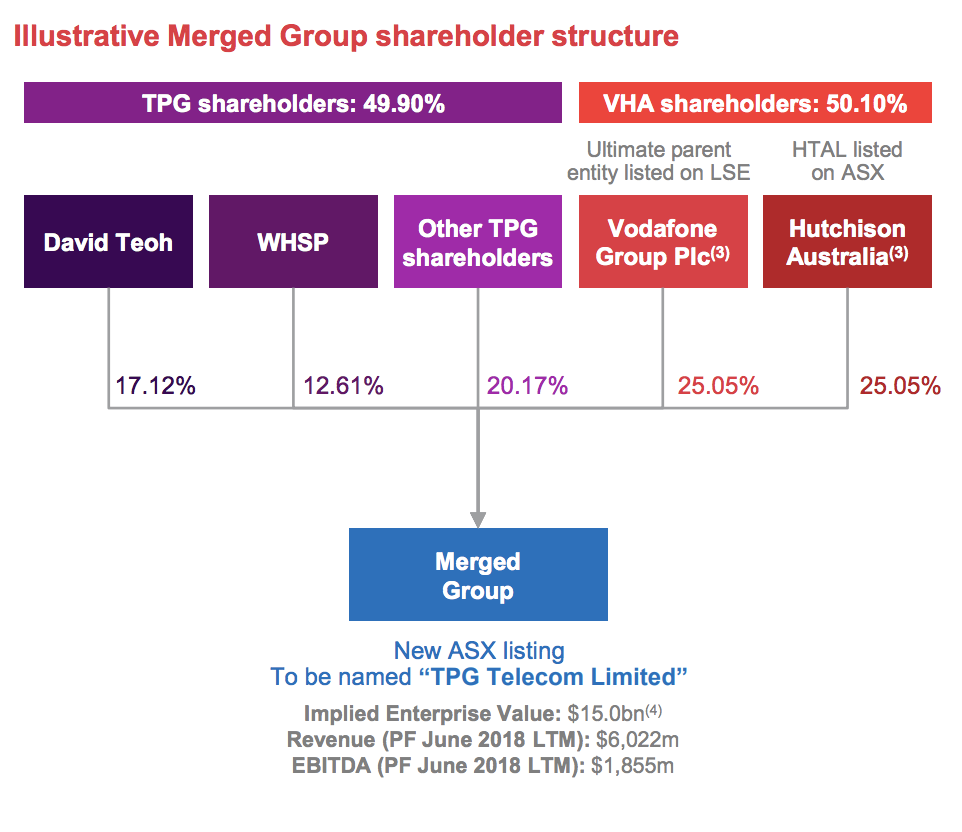 TPG Telecom will pay a special fully franked dividend to shareholders before the transaction goes ahead. In addition, TPG's Singaporean mobile business will be separated through a distribution of shares to existing TPG investors.
The Singapore mobiles separation will allow, "TPG shareholders to capture 100% of the upside of TPG Singapore otherwise not valued within the Merger", the company said.
What "TPG Telecom Limited" Will Look Like
David Teoh, the founder and largest shareholder of TPG Telecom, will become Non-Executive Chairman of the newly formed "TPG Telecom Limited" while Iñaki Berroeta, the current Hutchison Vodafone CEO, will become the CEO.
Robert Millner of Washington H. Soul Pattinson & Co. Ltd (ASX: SOL) ("WHSP"), TPG's most loyal corporate shareholder, will stay on the board.
The combined entity will have $4 billion of net debt and, excluding synergies, TPG says it will have $1.85 billion of EBITDA (click here to learn what EBITDA means).
The combined mobiles market share of TPG (currently 1%) and Vodafone (19%) will give it a commanding presence in the market with approximately 6.4 million subscribers. Thanks to TPG's success in broadband, it will also control around 22% share of the fixed broadband market.
With a much stronger back-end fiber and mobile network, plus many other strategic telecommunications assets, the combined group will be able to go head-to-head with Telstra Corporation Ltd (ASX: TLS) and Singapore Telecommunications' Optus.
As we reported recently, TPG has announced it will take the fight to Telstra and Optus with extremely low prices on mobile plans. This is a serious threat facing the two incumbents.
What Now?
Final timings and implementation of the merger has a few conditions, such as regulatory approvals from the competition watchdog, the ACCC, foreign investment review board (FIRB), the courts and approvals and restructures by the two parties.
The deal is expected to be implemented next year.
With a strong track record of implementing large-scale deals, such as the takeover of iiNet, I'm not sure it would be wise to bet against David Teoh's TPG Telecom causing some real headaches for the slow-moving Telstra.
The Australian Investors Podcast
The Rask Group's Australian Investors Podcast is fast becoming Australia's #1 podcast for serious investors. It provides unique insights from Australia's best investors, entrepreneurs, authors and financial thinkers. Download the latest episode free on iTunes, Castbox, YouTube or wherever you choose to listen.