National Australia Bank Ltd. (ASX: NAB) has joined Australia and New Zealand Banking Group (ASX: ANZ) in predicting further falls in Australian house prices.
The two big Aussie lenders have crunched their numbers and predict prices to fall into 2019.
Last month, ANZ analysts suggested prices in Sydney and Melbourne could fall 10% from top to bottom, according to Fairfax.
Yesterday, NAB's analysts said they expect persistent weakness in house prices in 2018 and into 2019 following their most recent survey.
Sydney house prices to be hit
House prices in Sydney and Melbourne are expected to fall 3.7% and 2.3% throughout 2018, respectively, according to NAB. In 2019, the speed of house price falls will slow but remain negative for Sydney.
Also in 2018, NAB is predicting falls in all major cities' unit prices, except Hobart and Adelaide.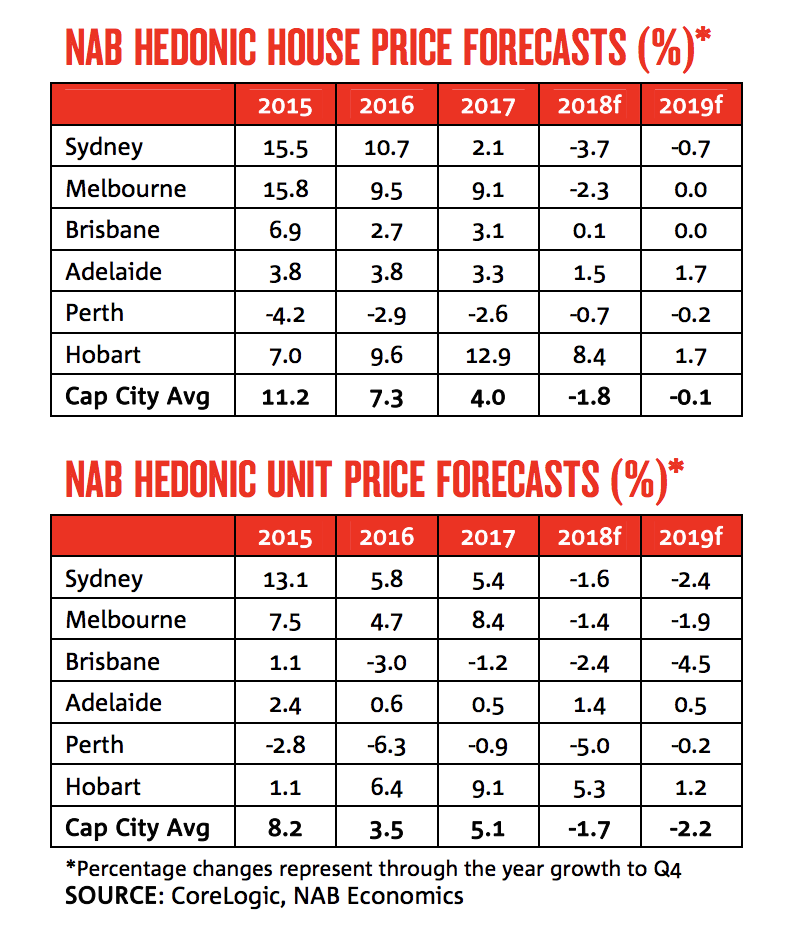 "We also expect house prices to flatten in aggregate in 2020 – implying a peak to trough fall of 6.5% and 2.5% in Sydney and Melbourne respectively," NAB's report read.
Summary
Falls in property prices are a normal part of the economic cycle. You only need to look abroad in recent times to witness instances of severe market corrections.
Having said that, property investors and homeowners alike need to be very mindful of the big stretch in Aussie household budgets (household savings have fallen steeply), rising debt levels, slow wages growth and the potential for rising interest rates.
Against the rapid growth in house prices over the past five years, in my opinion, now is the time to be exercising patience, diversify investments and maintain a healthy cash buffer.
Disclaimer: This article contains factual information only and should not be relied upon. Please consult a licensed financial adviser before acting on the information.