FREE investing report + podcast available!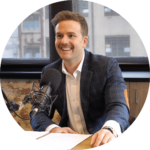 Led by Founder, Owen Rask, the entire Rask analyst team has just revealed the 11 stock & ETF positions they'd buy right now as part of our $10,000 hypothetical portfolio. 
This comprehensive report is yours, free.
Owen's report comes with the exact ticker codes, how much the analysts would invest and a detailed analysis of the stock and why we like it. Plus a 60-min analyst podcast! Simply enter your email address and we'll send you the report.
Did you know: Rask is fully owned by Aussies, based in Melbourne & serves 100,000 investors every month?