Here's today's The Match Out report from Market Matters' James Gerrish. Key point: the S&P/ASX 200 (INDEXASX: XJO) finished up +0.28% to 7,078.20.
Markets @ Midday: Listen here at lunchtime or find all Market Matters Podcasts on Spotify.

A solid session for the ASX today and as John Bowie Wilson (JBW) exclaimed on the desk, the market doesn't look like it wants to go down!
Resources back in favour with some good moves across the sector, particularly in the commodities we like (Copper, Uranium & Gold) which suits current portfolio positioning, while as we alluded to this morning, Tech is starting to look a bit tired.
The ASX 200 finished up +19pts/ 0.28% to 7078
The Materials sector bounced (+1.36%) while Energy (+0.36%) and Financials (0.23%) were solid.
Utilities (-1.79%), Property (-0.66%) and Consumer Discretionary (-0.59%) the weakest links.
The AUD traded higher today hitting 65.77c and is now up ~4% in the last month. Interest rate differentials drive currencies, and quite clearly, the US is now more likely to cut rates than our own central bank, albeit from a higher level, reducing that differential. This is supportive of the AUD.
We're also seeing a few more positive vibes from China which is helping the commodities trade, another supporting factor for the Aussie.
The RBA minutes from the last policy meeting were out at 11.30am this morning, articulating the boards thoughts on their decision to raise rates to 4.35%. They outlined the decision as one centred on the risks arising from the outlook for inflation being stronger than it had been some months earlier.
Fortescue Metals Group Ltd (ASX: FMG) +0.67% confirmed plans to proceed with its first three projects under group's plans to become a major force in hydrogen and renewable energy, signing off on $US750m in investments.
TechnologyOne Ltd (ASX: TNE) -2.07% had a volatile session, up initially but saw a big turnaround despite reporting a 16% uplift in after tax profits for FY23 to $129.9m, a shade below the $130.6m consensus.
Star Entertainment Group Ltd (ASX: SGR) was flat after they signed an agreement on revised tax rates with the NSW government, from the start of FY25, poker machine duty rates will increase to 21.91+ GST from 20.91% + there is an additional levy if they generate gaming revenue of $1.1bn in a given financial year.
Sandfire Resources Ltd (ASX: SFR) +5.01%, Paladin Energy Ltd (ASX: PDN) +4.01%, Northern Star Resources Ltd (ASX: NST) +3.49%, Evolution Mining Ltd (ASX: EVN) +2.42% and Mineral Resources Ltd (ASX: MIN) +2.93% were standouts in our portfolio today.
We looked at a bond from Coles this morning, a nice defensive fixed rate exposure with the choice of 7 or 10 year duration yielding 6.1% (or 6.4% for the 10 years). We like these sorts of deals, locking in today's rates.
The Westpac Banking Corp (ASX: WBC) Hybrid announced yesterday has seen strong demand, the book was over $2.5bn from what we understand, and it closed early (11am today) – the margin of 3.1% over was solid (and relatively attractive) equating to yield grossed for franking of 7.49%.
The guys at Unified Capital (ex-Shaws) nabbed a good trade today, selling down $176m worth of stock on-market for the founders of healthcare imaging software business Pro Medicus Limited (ASX: PME). They still own over ~$2bn worth of shares.
Altium Limited (ASX: ALU) +0.22% edged higher on a broker upgrade from Macquarie Group Ltd (ASX: MQG), they think it's worth $49.70, we own ALU in the Active Growth Portfolio.
Iron ore futures on the Singapore exchange rallied +2% to $US133.75/MT for the December contract. The price still defying the bears, helped this time from extended strikes from BHP Group Ltd (ASX: BHP) train drivers.
Gold was strong, up US$19 to US$1992/oz at our close.
Asian stocks were all up, Hong Kong +1.38%, Japan +0.24% and China +0.75%.
US Futures marginally higher ahead of Thanksgiving on Thursday + half day Friday – a quiet end to the week expected.
Deere & Company (NYSE: DE) held in the International Equities Portfolio reports tomorrow night
S&P/ASX 200 (INDEXASX: XJO) Index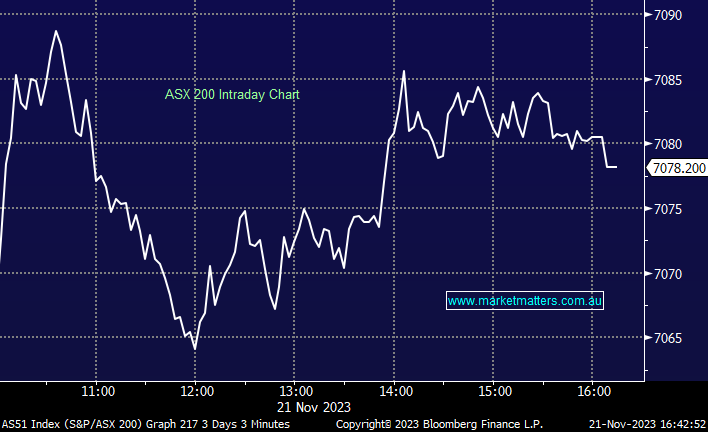 S&P/ASX 200 (INDEXASX: XJO) Index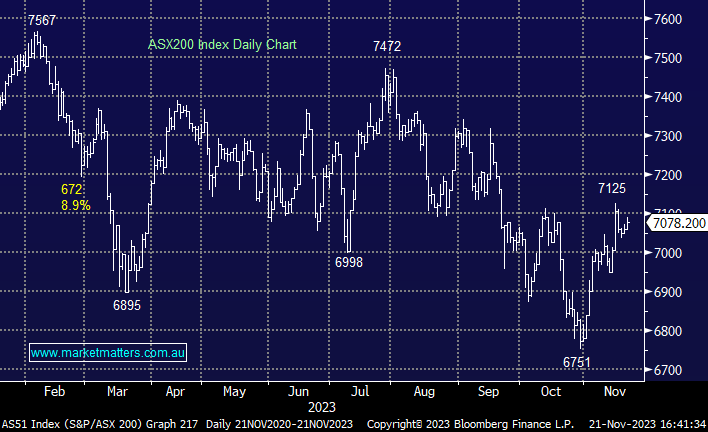 Broker Moves
Orica Ltd (ASX: ORI) Reinstated Outperform at Royal Bank of Canada (TSE: RY); PT A$20
Incitec Pivot Ltd (ASX: IPL) Reinstated Sector Perform at RBC; PT A$3.20
Nufarm Ltd (ASX: NUF) Reinstated Outperform at RBC; PT A$6.25
Healius Ltd (ASX: HLS) Cut to Neutral at Macquarie; PT A$1.95
Champion Iron Ltd (ASX: CIA) Cut to Hold at Laurentian Bank of Canada (TSE: LB); PT A$7.79
Liontown Resources Ltd (ASX: LTR) Raised to Neutral at Goldman Sachs Group Inc (NYSE: GS); PT A$1.55
Core Lithium Ltd (ASX: CXO) Cut to Sell at Goldman; PT 31 Australian cents
Healius Cut to Underperform at Jefferies; PT A$1.20
Universal Store Holdings Ltd (ASX: UNI) Raised to Sector Perform at RBC; PT A$3.40
Telstra Group Ltd (ASX: TLS) Reinstated Hold at Bell Potter; PT A$4.15
Altium Raised to Outperform at Macquarie; PT A$49.70
Major Movers Today