Welcome to Part 10/10 of the Investor Bootcamp mini-series on The Australian Investors Podcast! In this podcast, I walk through the importance of an investment checklist, showcase some examples and provide a discount on our Value Investor Program.
Download Owen's Investor Bootcamp training manual: https://bit.ly/rask-analyst
Listen now: Investment checklists
Video version: Investment checklists explained
Why use an investment checklist?
I firmly believe that being good at long-term investing is as much about 'the artful' as it is about 'the science'. However, too much of one and not enough of the other can lead you astray.
For example, if you believe the best way to invest is to take 5 stock valuation ratios and buy the shares, you will be rudely surprised. Conversely, if you disregard profitability or management's capital allocation, your portfolio will probably become the graveyard of empty promises.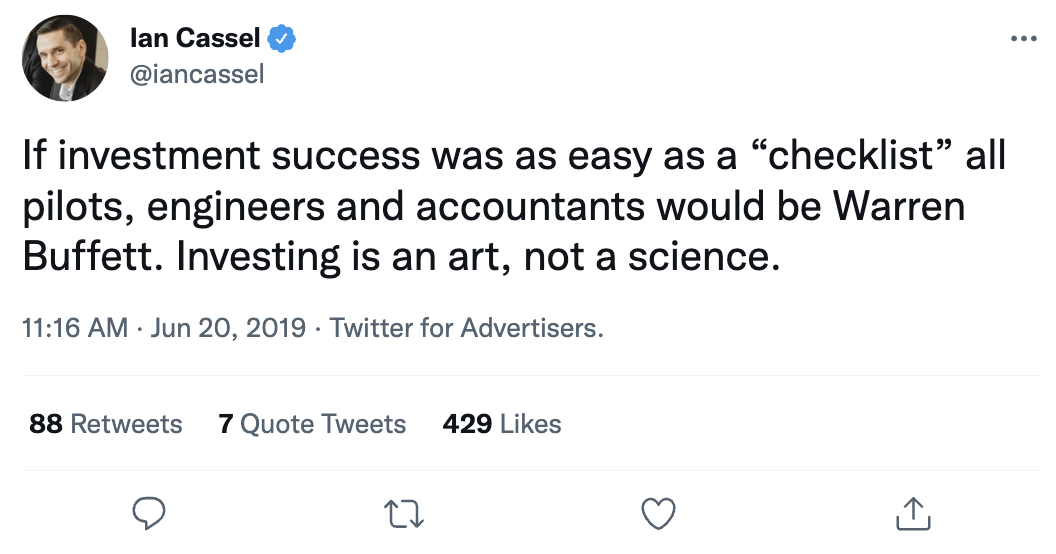 Stepping backward for a moment, if we also consider that investing is also a deeply personal endeavour, we then have to appreciate behaviour plays a very big role in our outcomes. Since every human being is fallible, even Warren Buffett or Elon Musk, using some type of scientific rule to keep us on track is important.
For me, using an investment checklist that allows me to filter companies, track my results and improve over time is paramount. I use a 5-point investment checklist (which is included as a PDF in the show notes) to remind me that I'm looking for companies I understand, with competitive advantages, good management, some growth — and a reasonable valuation.
When it comes to individual companies, I use another checklist. The full checklist includes 40-50 different points, targeting these 5 areas. We built the checklist using our experience in finding good companies and also from our failures. The checklist helps us score companies across every one of our 5 areas, while also spotting for errors.
In the show notes, I have included a small snippet of the checklist. This snippet only shows one part of the checklist, on a company's product, and gives you an illustration of what we do. I cover the full checklist, using examples like ARB Corp (ASX: ARB), Xero Limited (ASX: XRO) or Magellan Financial Group (ASX: MFG), in our Value Investor Program.
Access the Value Investor Program and use the coupon code "
bootcamp
" to save $100 on the joining fee for the full curriculum! 
Thanks for taking part in our 10-part Investor Bootcamp! Please reach out to me if you have any questions and please leave me a 5-star review on Apple Podcasts. It makes a huge difference in helping people find us.
Take the Value Investor Program:
Resources:

Join The Intelligent Investor & save
This podcast is brought to you by The Intelligent Investor, Australia's premier investment research membership service. Use the code "RASK", to get $100 off your annual membership or get a free 15-day trial (no credit card details required):
📈 Click here for a free 15-day trial