The WiseTech Global Ltd (ASX: WTC) half-year (1H21) results are out. What does this mean for the WiseTech share price?
WiseTech develops, sells, and implements software solutions that enable logistics service providers to facilitate the movement and storage of goods and information, domestically and internationally.
WiseTech's flagship logistics software platform is called CargoWise.
Fun fact, WiseTech is often lumped with other ASX technology shares like Afterpay Ltd (ASX: APT), Appen Ltd (ASX: APX), Altium Limited (ASX: ALU), and Xero Limited (ASX: XRO). People refer to this basket of shares as 'WAAAX shares'.
Improved performance across the board
WiseTech's top line experienced strong growth as revenue rose by 16% compared to the prior corresponding period, 1H20 (PCP). Revenue growth was bolstered by both CargoWise revenue and revenue from acquisitions as depicted below.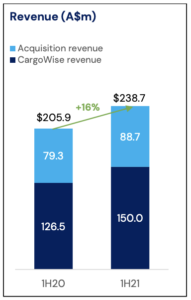 If I were invested in WiseTech, I would much prefer to see stronger organic growth because I'd be investing in the company's ability to improve its solutions rather than rely on acquisitions to generate revenue.
Recurring revenue grew slightly from 90% in the PCP to 91% in 1H21. This is a good sign, as it means users still like the solutions and are reusing them.
Another positive indicator of improved customer loyalty is the price increase of CargoWise. This was carried out to offset the increased product expenditure on research and development, data centre hardware, and cybersecurity.
Recurring revenue still increased despite the lift in price, meaning CargoWise is likely a sticky product.
The surge in revenue combined with a small decline in sales and marketing expenditure contributed to jumps in both EBITDA and underlying net profit after tax (NPAT), increasing by 43% and 61%, respectively, relative to the PCP.
The company notes the underlying NPAT excludes fair value adjustments from changes to acquisition contingent consideration. Put simply, it excludes the revaluation of an item that does not form a part of the business' everyday performance.
WiseTech's solid performance across the board meant it declared a fully franked interim dividend of 2.7 cents per share, up 59% compared to the PCP.
Management focused on the 3Ps
Product, penetration, and profitability is the name of the game for WiseTech's management team. This strategy is reflected by the following commentary from WiseTech's Founder and CEO, Richard White.
Richard White said, "Our strategic investments are designed to build in-house capabilities and where appropriate to fast track the development of technology and know-how through acquisitions. These investments are inter-related and complementary and as such should be looked at holistically rather than on a piecemeal basis.
"Having completed 39 acquisitions since IPO in 2016, we have now assembled significant resources and development capability to fuel our CargoWise technology pipeline and therefore intend to slow our acquisition activity in the near term. Our focus going forward is on expanding the CargoWise ecosystem and extracting efficiencies across our business to maximise our operational leverage."
My wise (or foolish) takeaway
I tend to steer away from businesses that drive growth through acquisitions. However, in WiseTech's case, it appears the company is acquiring the right businesses to complement its flagship platform.
Richard White said these acquisitions are complementary, and there is proof to back this up. The recurring revenue and price increase provide strong indicators of growing stickiness.
In addition, I think the slight drop in sales and marketing expenditure is a strong sign of management trusting the quality and reputation of its solutions to bring in further revenue.
It appears WiseTech is in a solid position to execute its 3Ps strategy with a sound balance sheet and ongoing free cash flow. In saying that, investors should keep an eye on increasing expenditure on product development.
If you are interested in other ASX growth shares, I suggest getting a free Rask account and accessing our full stock reports. Click this link to join for free and access our analyst reports.