You want to know something funny…
Despite COVID-19 and the market crash that followed in March 2020, the Australian share market or S&P/ASX 200 Total Return has returned 0.69% over the past 12 months, according to S&P Global data on Friday.
What's funny about it is this: despite a once-in-a-100-year pandemic, a bizarre US election and China trying to influence Australia, the "risky" Australian sharemarket still matched the return of bank interest!
Meaning, in possibly the worse case economic situation anyone would have predicted in 2019, the share market still went… up!
This is why a business leader and investor I respect always says, "investing is not until the next market crash, it's for life."
Because while no-one can predict the returns from your shares one year to the next, it's a well-known fact that shares have outperformed cash, bonds and most investments over the past 50 years – despite countless market crashes, presidential elections, prime ministers, terror attacks... and now, a global pandemic.
Keep in mind, over the past 50 years, interest rates (e.g. from your bank deposit) were as high as 15%!
And now interest rates are near 0%…
Translation: if there were ever a time to invest – it is right now. After all, what's the alternative?
As an investor in shares/businesses, you own the economy. It works for you.
And if you're not an investor, the economy will own you. Forever. Without investing, I think you will never earn enough passive income to make you feel secure.
To keep things simple, I've added some of my favourite investor FAQs below.
If I did invest, how do I know what to buy?
Our Rask Invest service, the members-only service I run, tells investors like you which companies/stocks we like and why.
Meaning, if you're a member of Rask Invest and we release a new stock idea, you'll receive an email from me and the investing team with a link to our full write-up on the company or ETF – inside our secure members-only website.
Every stock. Every time. You'll know what I'm buying and why.
This weekend, our Rask Invest service is on sale for $100 off – when you use the discount coupon code "SAVE" on this page.
I heard the market is going to fall, so it makes sense to wait, right?
This is the question I hear every time I introduce myself to someone and say "I'm in finance. I help people buy shares and invest."
Worrying about a potential market crash is absolutely bonkers.
Let me explain…
Firstly, it's bonkers because it makes people like you think they can time the market. Successful investing is not about timing the market. It's about time in the market.
The GFC, Trump's first election campaign, Brexit, Trump's second election campaign, COVID-19… these all seemed like fair reasons to not be invested.
Even so, I still think it's crazy and concerning to think that investors spend more than 30 seconds worrying about "the next market crash". Let me show you…
Here is the only thing you need to know about market timing:
If the market's up, buy.
If it's sideways, buy.
If it's going down, buy more!
The four most dangerous words in investing are "buy low, sell high". It makes you think you need to time your 'trades' (buy low) and have to sell a winner (you don't – and shouldn't).
Those words should be "buy low, then buy again". Or, better yet, "accumulate".
Accumulate assets that pay dividends and grow. That's it.
That all sounds a bit fluffy, right?
If you don't believe me:
Researchers at Massey University tested 5,000 of the most popular technical trading strategies and found none of them worked.
Researchers at Schwab tested 20 years of data to ask "does market timing work?". They tested 5 hypothetical portfolios ranging from perfect timing (buying on the lowest day for the market every single year) and the worst possible timing (investing at the market's peak every year). Even with the worst possible timing, a portfolio would have returned nearly 50% more than the investor who stayed in cash. But what I find most refreshing is this: if you just invested your money immediately (e.g. save $1,000 this month and invest it on the first day of next month) the 'perfect timer' was only 6.5% better off than you were after 20 years!
Meaning, instead of using your time and energy worrying about the direction of 'the market' this year or next, or getting yourself tangled in some convoluted market timing strategy, just do this: invest in the best investments you can find each and every month. Rain, hail or shine. Then hold on.
And if you can't find a new investment? Buy more of the one you already have.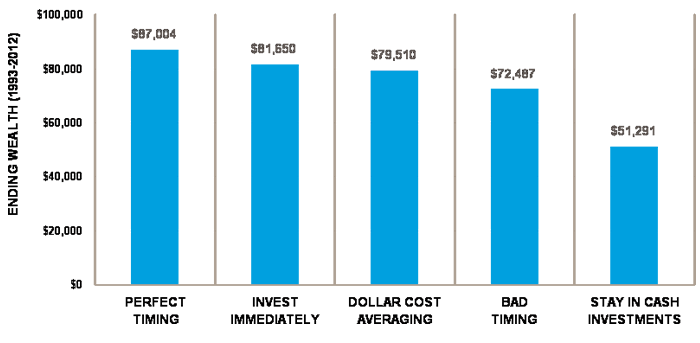 Can I ask you questions and comment on your stock ideas inside Rask Invest?
Yes! Every month the Rask Invest team and/or I publish a question and answer session for members. Money, finance and investing, we try to answer all of your questions (note: we're not financial planners, we're investors).
Why is Rask Australia better than other firms?
I'd like to think our track record with Rask Invest speaks for itself. However, our mission goes well beyond bringing you new stock ideas – we'll help you become a better investor.
And after we release an investment idea to our members, I can and do buy the investment/stock/ETF using my own money. However, I wait at least five days after our members get the research, so they get priority.
Another reason I think we're better than other stock researchers is that my name is on the door. I believe our research goes deeper, is more comprehensive and thorough than other providers because I'm investing in the companies and it's my family's name on the line.
Finally, Rask is Australian owned and operated. We have no bank alignment and no US, Asian or European headquarters. Our business is born, raised and operated right here in Melbourne, Australia.
I want to become a better investor and educate myself
This weekend we're offering our Ultimate Investor Sale. We're calling it the 'ultimate investor' sale because we're combing our near five-star rated online Value Investor Course with 6 months of Rask Invest. Usually, this would cost $1,198 but until Monday, we're combining both programs for $699 – more than 40% off!
This is ideal for investors looking to take control and have maximum confidence in their decisions and investments.
So while Rask Invest tells you which companies or ETFs I'm buying, the Rask Value Investor Program takes you through every important aspect of investing in businesses (i.e. everything our analysts do), including:
Investment philosophy and psychology
Building your own, structured, investment process
Analyst research techniques and due diligence processes
Moat assessments (i.e. competitive advantages)
Management incentives and language
Industry analysis and fact-checking
Full business valuation and modelling tutorials
DCF analysis (including downloadable valuation templates)
SaaS modelling
Portfolio management and more
To take advantage of our limited time offer, simply click here to join Rask Invest and use the coupon code "CYBER-20" to get the bundle for $699. When you apply the coupon code the price will adjust. And once you proceed through the checkout page, you will be sent an email with a coupon code to enrol in the Value Investor Program.
Just don't forget to apply the coupon code "CYBER-20" on this page.
Thanks for reading my update.
Here's to investing better!