On Monday, the NVIDIA Corporation (NASDAQ: NVDA) stock price jumped 5.8% on news it will acquire semiconductor giant Arm Holdings for US$40 billion from SoftBank Group.
Nvidia advised the purchase will also be immediately accretive to its non-GAAP (normalised) gross margin and non-GAAP earnings per share.
This will be the largest deal ever completed in the semiconductor industry. SoftBank acquired Arm in 2016 in a then-record deal for US$31.4 billion.
Nvidia expects to close the deal within around 18 months, subject to obtaining regulatory approvals from the United Kingdom, the European Union, the United States and China.
What does Nvidia do?
Nvidia invented the graphics processing unit (GPU) in 1999 to accelerate gaming.
While gaming is still a major component of the business, Nvidia's data centre business is rapidly growing where its technologies provide the "power to accelerate deep learning, machine learning and high-performance computing (HPC) workloads".
With a view to optimising its data centre solutions, Nvidia acquired high-performance networking company Mellanox last year for US$6.9 billion.
Nvidia also offers computing platforms and software solutions to a growing list of sectors including healthcare, design visualisation, autonomous machines and vehicles (including self-driving).
What does Arm do and why did Nvidia acquire them?
As described in SoftBank's 2020 annual report, "Arm's processor technology is the world's most widely licensed and deployed semiconductor design of its kind and is used in virtually all smartphones, the majority of tablets and digital TVs, and a significant proportion of all chips with embedded processors".
You may be reading this on your Apple Inc. (NASDAQ: AAPL) iPhone which relies on a CPU (central processing unit) built upon Arm's architecture.
There is also a strong chance you have recently watched Netflix Inc (NASDAQ: NFLX), which is hosted by Amazon Web Services (AWS) – the cloud platform division of Amazon.com Inc. (NASDAQ: AMZN). AWS is the world's largest cloud platform by revenue and relies on Arm's architecture for its Graviton processors. The AWS website advises that its Graviton2 processors offer 40% better price performance over comparable current-generation x86-based instances. Intel Corporation (NASDAQ: INTC) bases its CPU designs upon the x-86 architecture, an alternative to Arm.
The business model of Arm, as described by Arm CEO Simon Segars, consists of Arm charging an "up-front fee to gain access to our technology, and a royalty on every chip that uses one of our technology designs".
Nvidia CEO Jensen Huang summarised the benefits of the deal in an interview with CNBC: "If we could leverage their business model, if we could stand on the network they've created and take the technology we've invented and put it into that channel and make it available to their thousands of partners, the economics for us would be incredible,".
Is Nvidia stock a buy?
As a current shareholder in Nvidia, I am excited about the acquisition of Arm and the benefits that may flow from it, should the acquisition pass all regulatory approvals.
However, the Nvidia stock price has run extremely hard recently and is up about 190% over the last year. While Nvidia is growing strongly and the future looks limitless, its price-earnings ratio (trailing twelve months) is near its highest level in the last 5 years.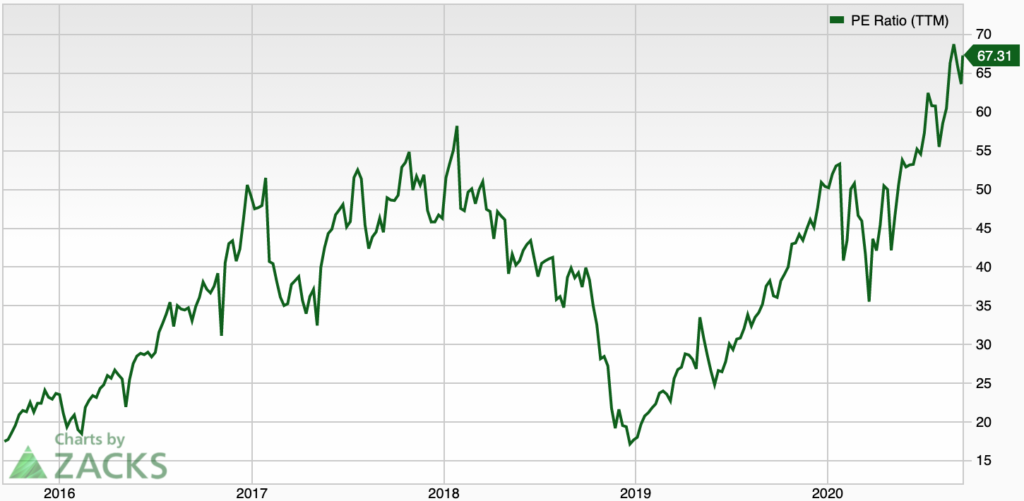 Therefore, I would be waiting for a correction (similar to what occurred earlier this year) to consider adding Nvidia stock to your portfolio.
In the meantime, check out Rask Media's ongoing coverage of US stocks.