The Afterpay (ASX: APT) share price has suffered a 72%(!) decline from its all-time high of $40.50 just over a month ago on 19 February 2020.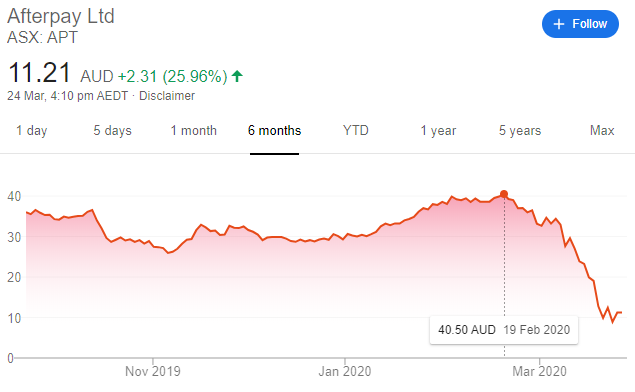 Quite the painful drop. Owen has already looked at a few of the reasons why the Afterpay share price may have plunged so dramatically.
It's obvious that COVID-19 has changed the landscape for almost every business on the ASX, or any global business.
Seeing the number of infections and deaths rise day after day could be enough to cause a bit of uncertainty. But it's the economic side of things that appear to have investors particularly fearful.
Are a lot of Afterpay's prime customers about to lose their jobs, if they haven't already? Is its current receivables book a lot more risky than it was a couple of months ago? How will the business perform when it already wasn't profitable? Is in-store underlying sales about to vanish and total underlying sales about to experience a significant decline?
There's a lot to consider. There's a chance that Afterpay's shares could recover strongly next month or by the end of the year.
However, it hasn't just been one day of heavy selling. Almost the entire last month of activity hasn't seen much interest from the market. How much is a business worth if it doesn't make a profit? The year that we could see Afterpay make a profit has been pushed out. Afterpay's balance sheet is in pretty good shape now, but investors will need to keep an eye on any rise in transaction losses.
Afterpay may not be the best idea to be looking at during the COVID-19 pandemic due to the above risks. It may be wise to wait to see how this plays out over the next few months first before buying. The below tech shares could be better long term bets.
2020: 3 stocks to buy for the long run
Amidst the confusion, some researchers value the entire cloud computing market at approximately $US210 billion. If you ask me, it seems clear as day that this HUGE market is only going to get bigger in 2020 and beyond.
Our top investment analyst has just identified 3 growth stocks in a net cash position, with strong competitive forces... and obvious tailwinds at their back.
Claim your FREE investing report on our analyst's "3 best share ideas for the cloud revolution" when you create a free Rask Australia account.
Our report is 100% free and unlocks hundreds of hours of bonus content.
Simply click here to access the report.
---
Disclaimer and warning: The information on this website is general financial advice only. That means, the advice does not take into account your objectives, financial situation or needs. Because of that, you should consider if the advice is appropriate to you and your needs, before acting on the information. In addition, you should obtain and read the product disclosure statement (PDS) before making a decision to acquire a financial product. If you don't know what your needs are, you should consult a trusted and licensed financial adviser who can provide you with personal financial product advice. Please read our Terms of Service and Financial Services Guide before using this website.
Disclosure: at the time of publishing, Jaz does not have a financial interest in any of the companies mentioned.