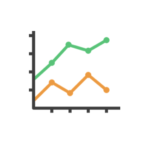 Dow Jones (NYSE:.DJI)
The Dow Jones Industrial Average (INDEXDJX:.DJI) is a US sharemarket index which tracks the share performance of 30 large companies on the New York Stock Exchange (NYSE) and NASDAQ exchange.
Created by Charles Dow in 1896 with only 12 companies, 'The Dow' is often quoted in financial newspapers and on television.
The 30 companies included in the index are chosen to reflect the US economy. As a result, the companies rarely change as often as they might in other market indices, like the S&P 500, which includes the 500 largest US companies.
The Dow Jones is a price-weighted index, meaning that the share with the highest price is given the most influence over the index's day-to-day movements.